Mafia II
Fuggedaboutit?
Missions to Empire City
Attractive and varied when viewed in car, Empire City is eerily barren and lifeless when you step out. GTA IV's Liberty City made you feel its inhabitants would continue to go about their business even with the console switched off, but Empire City feels more like Westworld, where NPCs are simple automatons awaiting the stimulus of player interaction.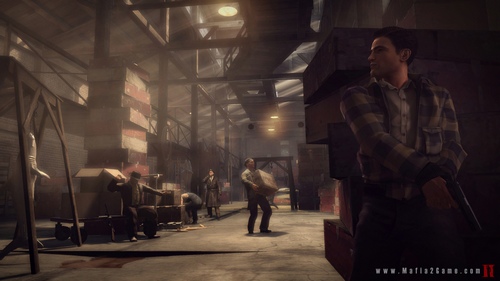 Shots in store
Fortunately, there's a lot more life - and death - in the game's missions. Here, the engine comes into its own to deliver high enemy counts and varied architecture, from skyscraper building sites and dockside warehouses to tenement blocks and prison courtyards.
Enemy AI is decent enough, as are the cover and aiming systems. But while none excels to elevate Mafia II's gunplay above average, destructible scenery adds a welcome additional dimension to shootouts.
Not so welcome are the long drives between missions. A feature of the original Mafia game – not to mention countless GTA titles – the long distances feel like unnecessary padding. Nowhere is this more apparent than at the end of chapters, where you're forced to drive all the way across town just to get home and 'sleep' to end the chapter and save your progress.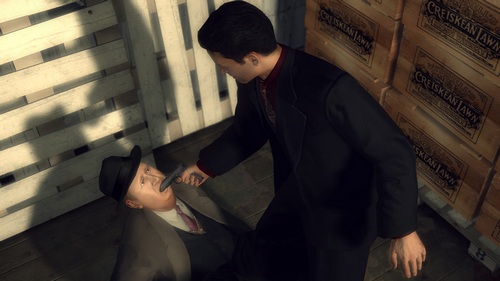 Swallow my load
It's a last-gen mechanic that Rockstar improved in GTA IV and all but abandoned with the 'skip to destination' in Red Dead Redemption, so it's a shame to see it rear its ugly head here in Mafia II.
Verdict
Mafia II is not a bad game, it's an above-average one undermined by mediocre elements. Despite the clichés, the scripting and acting engage throughout. And the gunplay always entertains, and occasionally thrills. But as much as these positive elements combine to compel completion, the sparsity of Empire Bay and the overuse of protracted driving sections remain a constant deterrent. ®
More Games Reviews

Kane & Lynch 2:
Dog Days
Lara Croft and the
Guardian of Light
Monday Night
Combat
Castlevania:
Harmony of Despair
Sponsored: Minds Mastering Machines - Call for papers now open

Mafia II
A reasonable game as entertaining as it is frustrating. Available on Xbox 360 (tested), PS3 and PC