Mafia II
Fuggedaboutit?
Oh my Godfather
Vito Scalleta's rise up through the Mafia ranks is instantly recognisable to fans of the genre. Starting out as hired muscle, Vito and his wisecracking friend, Joey Barbaro, carry out occasional tasks for all three of Empire Bay's Mafia families. But it's not long before greed and bad luck sees them embroiled in typical Mafia machinations, playing one family off against the next and racking up an increasingly large body count.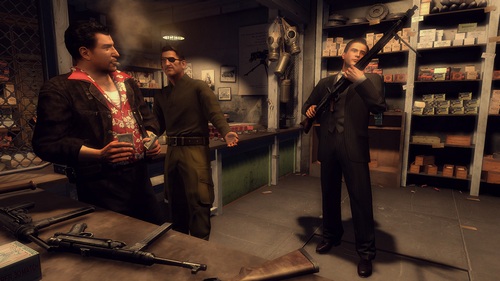 'Oi, One-eyed Willy, I don't need a harpoon!'
The story is the highlight of Mafia II. Preceding each mission, cut-scenes drive the narrative through good camera, scripting and voice acting. In spite of innumerable clichés in dialogue, most of the characters are well developed and convincing. And, unlike the exaggerated Grand Theft Auto series, Mafia II's more serious undertones allow for characters that can amuse and menace in equal measure.
But while Mafia II might offer a grittier depiction of the criminal underworld than GTA IV, it fails in all other comparisons to Rockstar's seminal work. The vast city, the range of cars, the shops, the clothing, the weapons – everything promises the full sandbox experience, but Mafia II is almost completely linear.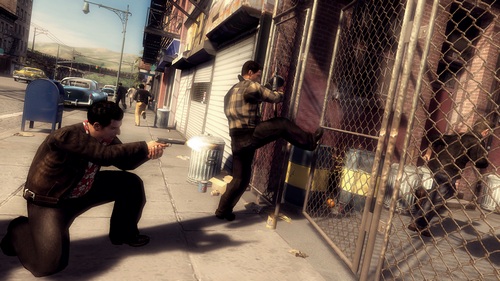 'When I said, 'find me a fence', this isn't what I meant'
Step outside the main mission structure and there's little to see or do in Empire Bay. Gun shops, clothes shops, car body shops and dinners serve only to facilitate your progress through the succession of main missions, essentially acting as upgrade and health stations, where you can purchase ammo or health, or disguise you or your car from police attention.