HP Pavilion dv6-3085ea 15.6in notebook
Family favourite?
Life is suite
The 92-key keyboard is pleasant to use with shallow action on the keys, and you can switch on a glowing keyboard backlight when playing around in the dark. A set of dedicated keys down the left give you one-tap access to your e-mail program, your web browser, HP MediaSmart, the current program's Print dialogue window, and a calculator.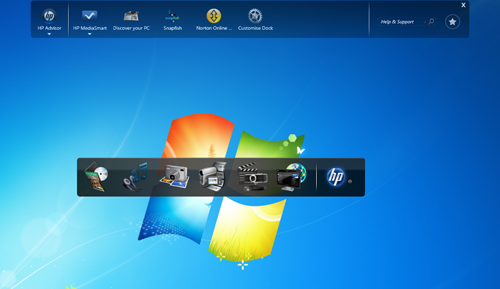 HP MediaSmart Suite pops up big friendly icons for accessing media files and devices
If the latter seems incongruous next to the others, you'll find the way it self-launches in 100 separate windows even more bizarre. Leave the calculator key well alone, I say.
The large trackpad in front of the keyboard supports a small variety of multi-touch gestures but don't expect more than a flip and a scroll. You can tap anywhere on the trackpad to make a selection or double-tap to launch. To do anything more complex, such as click and drag, you will need to press down on the denoted left- and right-click areas and drag another finger across the main area of the trackpad.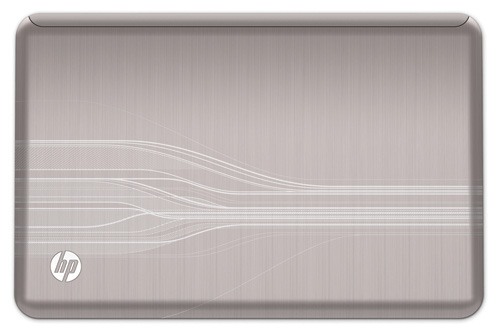 The notebook, as tested, is currently supplied in a metal finish only.
To the right of the trackpad is a built-in, swipe-action fingerprint reader, a device not found on the other Pavilion dv6 models. You can record any or all of your fingerprints on either hand and use them for additional PC security. For example, you could protect your Windows account with an impossibly complex passphrase that you'll never have to type in because you can log in with a simple swish of your finger.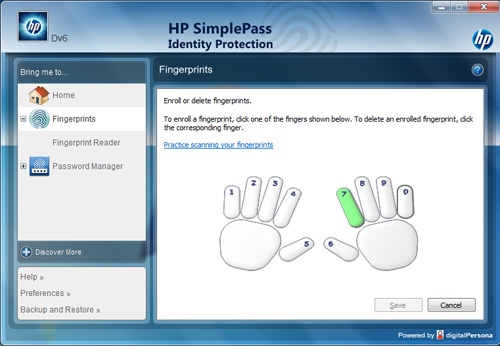 Log in to your Windows user account with a swipe of a finger instead of a password
I'm no security expert but the fingerprint reader appeared to work a treat. I tried lots of silly ways of trying to circumvent the system but couldn't fool it. Nor did it ever misread my fingers, even when they got er... a little greasy in the gentle warmth of the summer.
Sponsored: Minds Mastering Machines - Call for papers now open