119 iPad apps for admins, coders, and geeks
Stuff for web monkeys, iPad junkies, EE flunkies
Geeky treats
And so we come to the end of our round-up of 119 iPad apps for admins, coders, and now proud and productive geeks.
"Geek", by the way, is in no way a pejorative — the Merriam-Webster Dictionary, for example, defines the term as "an enthusiast or expert especially in a technological field or activity."
We will extend that definition to include the type of person who would appreciate our penultimate offering, CraterSizeXL (99¢), which calculates how much damage an asteroid of your choice of size, composition, and velocity would inflict upon Earth should it come for a high-speed visit.
Just for the proverbial shits 'n' giggles, CraterSizeXL calculates burn severity at expanding distances from impact, and expresses global havoc in units of gigajoules, kilotons of TNT, and the equivalent number of Little Boys dropped upon Hiroshima.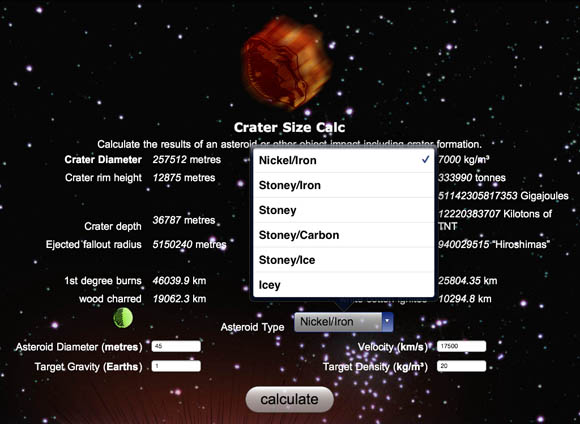 Devs: 'Want to know the kind of damage an impacting asteroid might do to Earth or another planet?' Who wouldn't?
Our final geeky treat, weighing in at 119 (apps, that is, not Little Boys), is Pi to 1 Million Digits for iPad (99¢). Simplicity itself, this app lists every true geek's favorite irrational number, π, to a million places.
And, yes, we looked up the proper HTML entity needed to display the mathematical symbol for 3.141592653589793238462-and-so-on-and-so-on-and-so-on using by using one of our previously revealed web-monkey recommendations, Entities HD.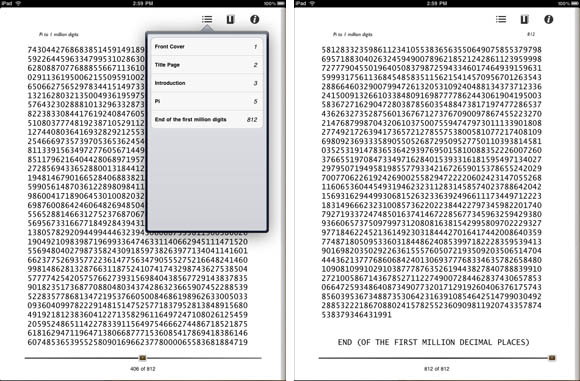 Eight hundred and twelve pages of π — with bookmarks, no less
After 119 apps, it's time to declare this case to be closed — and the verdict is incontrovertible: there's more for the discriminating iPad owner in Apple's quarter-million-app online repository than merely fart app after fart app after fart app after fart app after fart app and fart app after fart app after fart app after fart app after... ®
Sponsored: Minds Mastering Machines - Call for papers now open