Geeky treats
And so we come to the end of our round-up of 119 iPad apps for admins, coders, and now proud and productive geeks.
"Geek", by the way, is in no way a pejorative — the Merriam-Webster Dictionary, for example, defines the term as "an enthusiast or expert especially in a technological field or activity."
We will extend that definition to include the type of person who would appreciate our penultimate offering, CraterSizeXL (99¢), which calculates how much damage an asteroid of your choice of size, composition, and velocity would inflict upon Earth should it come for a high-speed visit.
Just for the proverbial shits 'n' giggles, CraterSizeXL calculates burn severity at expanding distances from impact, and expresses global havoc in units of gigajoules, kilotons of TNT, and the equivalent number of Little Boys dropped upon Hiroshima.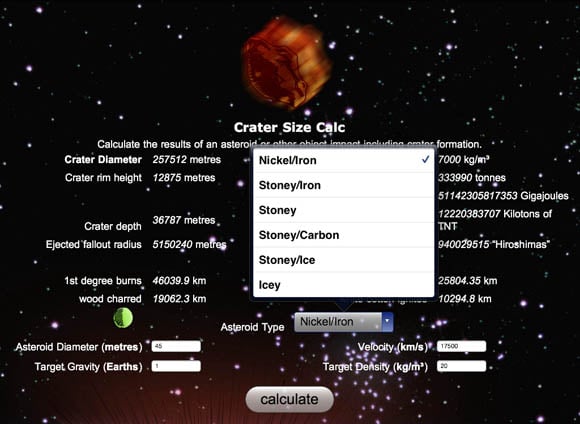 Devs: 'Want to know the kind of damage an impacting asteroid might do to Earth or another planet?' Who wouldn't?
Our final geeky treat, weighing in at 119 (apps, that is, not Little Boys), is Pi to 1 Million Digits for iPad (99¢). Simplicity itself, this app lists every true geek's favorite irrational number, π, to a million places.
And, yes, we looked up the proper HTML entity needed to display the mathematical symbol for 3.141592653589793238462-and-so-on-and-so-on-and-so-on using by using one of our previously revealed web-monkey recommendations, Entities HD.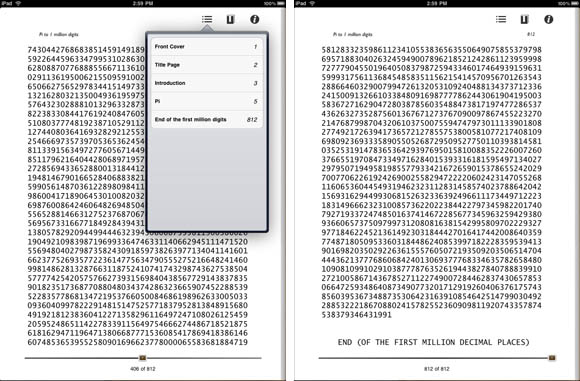 Eight hundred and twelve pages of π — with bookmarks, no less
After 119 apps, it's time to declare this case to be closed — and the verdict is incontrovertible: there's more for the discriminating iPad owner in Apple's quarter-million-app online repository than merely fart app after fart app after fart app after fart app after fart app and fart app after fart app after fart app after fart app after... ®
119 iPad apps for admins, coders, and geeks
COMMENTS
admin, coders and geeks ...
need control to execute the tasks they do, without having to go to an app store every 5 mins to pay for a tool that does ping, then another that does arp, then another that split files, then another that allows you to actually store a file, then another that allows you grep a file, then another that allows yo to share grepped files ...
otherwise I can see a lot of these people becoming very poor very quickly :D
Use your iPad for something more ... mainstream I'd say :D
Or jailbreak it and run BSD and X on it
But the IPAD was supposed to be an IFAD
So why are so many companies producing tablets and software?? whats going on ????
I thought no one would buy this thing becuase it sounded like a sanitary product??
still not iSSH
You mention pTerm and yet still no mention of iSSH. If you haven't done a review of it yet, then seriously do yourself a favour and give it a go. Try running X clients over ssh from it. It's the beezneez
I'm getting sick of
some clueless moron wrote about iCrap for "Geek".
The true geek, or often referred to as the "ultimate geek" would at least have some self respect. No self respect geek would ever touch any iCrap.
The first thing any true geek would do, is to be the boss. A true geek will never accept someone else tells him/her what he/she can do.
iCrap
119 applications you dont really need, that can be done on 119 other things if you didn need them
http://www.theregister.co.uk/Design/graphics/icons/comment/fail_32.png