iPad utilities
You know you're a proud, self-realized geek when you simply must know what's going on under the hood of any electronic device that you own — even if the information you divine is not of any particularly practical value.
Pad Info (free - for now, two and a half stars), for example, will fill you in on just about all the basics about your iPad's system state: memory breakdown, battery life, general device info, storage space, and address info. For the average user, the stats are just of passing interest, but for an iPad-app developer, they can come in mighty handy.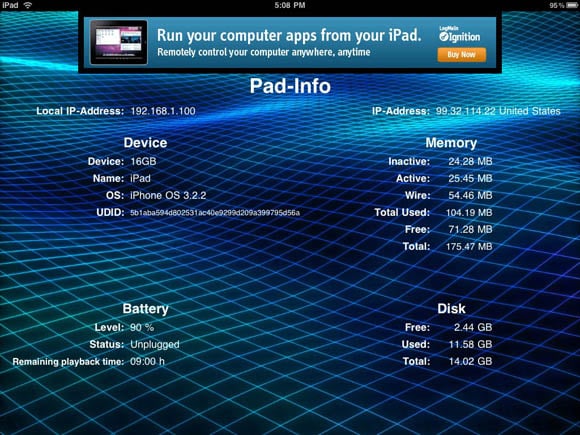 Pad Info provides — what else? — info about you iPad, all for free (though you'll see rotating ads)
Pad info is by no means alone in the iPad system-monitoring sphere. System Activity Monitor for iPad ($2.99, three stars), does pretty much the same duty, but the developer proudly states that it frees iPad memory when it launches — well, actually, they say "FREES MEMORY AUTOMATICALLY ON START." They seem awfully proud of that capability.
System Manager for iPad ($1.99, four stars) adds a few features such as battery-saving tips, detailed background-process monitoring, more-complete wireless info (including connection speed), and other fun stuff. It's also, in our opinion, the most attractive of the system-monitoring bunch.
Finally, there's SystemInfo for iPad ($1.99, four stars), which also provides a goodly amount of info, including estimates of the amount of battery life you have remaining for a few different usage scenarios. It's a bit garish for our refined tastes, but as the Romans would say, "De gustibus non est disputandum."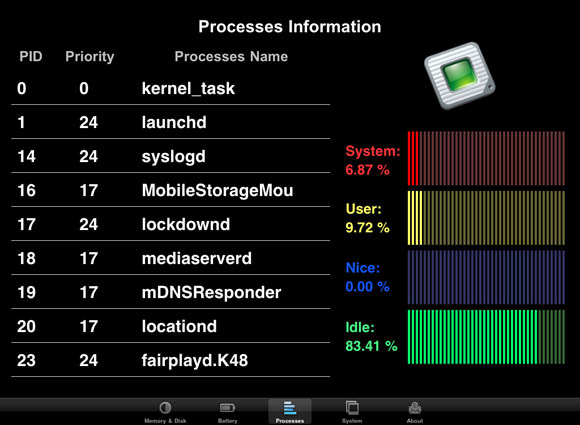 We're puzzled by the cough-drop-on-foil in the upper right corner of SystemInfo's Processes Information screen
If you don't need a full-scale system-info app, there are a few specialized freebies available, as well: MAC Address (free, three stars) provides your UDID, internal and external IP addresses, and — as might be guessed — your MAC address. Two Toasters UDID Finder/Sender (free, three stars) has a long name for an app so short on abilities: it displays your iPad's UDID and lets you email it. UDID Tool (free, four and a half stars) does the same, but with a more-compact moniker.
We're not even going to bother to list all the various and sundry battery-monitoring apps available — we counted well over a dozen. We confess to not examining them all, but we did discover two, Battery HD Pro (99¢, three and a half stars) and Battery Acid - Battery Health Monitor for iPad ($1.99, three stars), that let you adjust their time-available estimates for different usage scenarios based upon the health and age of your battery.
We'd be remiss, however, if we didn't point out that Battery HD Pro has a lovely bubbling-battery animation, and that Battery Acid lets you use your own photos as background images. Both meaningless-though-fun features, to be sure, but Battery Acid wins our love due to its developer's name: ALL CAPS APPS, LLC.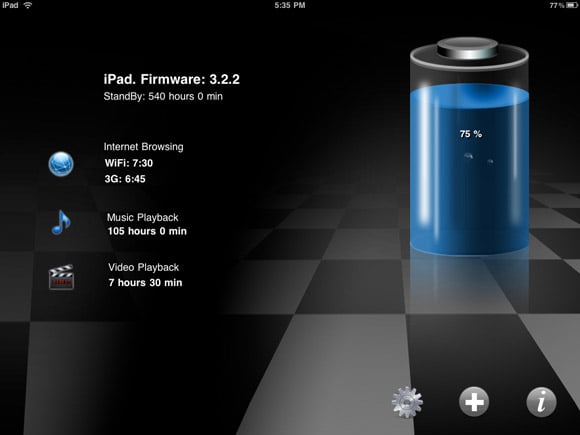 Battery HD Pro may not improve your overall iPad experience, but it will let you pick its battery-image color
COMMENTS
admin, coders and geeks ...
need control to execute the tasks they do, without having to go to an app store every 5 mins to pay for a tool that does ping, then another that does arp, then another that split files, then another that allows you to actually store a file, then another that allows you grep a file, then another that allows yo to share grepped files ...
otherwise I can see a lot of these people becoming very poor very quickly :D
Use your iPad for something more ... mainstream I'd say :D
Or jailbreak it and run BSD and X on it
But the IPAD was supposed to be an IFAD
So why are so many companies producing tablets and software?? whats going on ????
I thought no one would buy this thing becuase it sounded like a sanitary product??
still not iSSH
You mention pTerm and yet still no mention of iSSH. If you haven't done a review of it yet, then seriously do yourself a favour and give it a go. Try running X clients over ssh from it. It's the beezneez
I'm getting sick of
some clueless moron wrote about iCrap for "Geek".
The true geek, or often referred to as the "ultimate geek" would at least have some self respect. No self respect geek would ever touch any iCrap.
The first thing any true geek would do, is to be the boss. A true geek will never accept someone else tells him/her what he/she can do.
iCrap
119 applications you dont really need, that can be done on 119 other things if you didn need them
http://www.theregister.co.uk/Design/graphics/icons/comment/fail_32.png