Engineering apps
DataAnalysis (free, three and a half stars) isn't strictly an engineering app per se, but we want it in this roundup because it's one of the slickest, most useful free apps that we've found in our expeditions through the muck and marvels of the App Store. Why its users have given it only three and a half stars as of this writing is a puzzlement.
DataAnalysis is good-looking, powerful, versatile — and, mirabile dictu, free
This straightforward app plots and analyzes most any data that can be expressed in x,y pairs. Said data can be entered using the keyboard, imported through the iPad's Mail app, or loaded through iTunes, then bent to your will in a ton of different ways. If you enjoy numbers, you owe it to yourself to install this free gift.
A couple of other number-mungers that you might find of more-specific interest are Transmission Line Calc ($2.99, three stars), which — as you might have guessed — will help you with day-to-day RF transmission-line calculations, and e-ENGineer ($1.99), which will crank out answers to a number of common electrical engineeting calculations.
Speaking of things EE, the developers of iCircuit ($9.99, four stars), a respected analog and digital circuit simulator and analyzer, refer to it as the "the premier iPad and iPhone app for designing and experimenting with circuits." We have no reason to doubt them — and it's pretty damn good-looking, as well.
We found ourselves a bit tripped up by the English-as-a-second-language description of the transistor-designing TrCalc ($1.99), although it appears to be worthy of checking out, and we found electrical engineering 1 ($7.99, four stars) to be an entry-level reference for such EE basics as circuits, digital logic, electric fields, power, Fourier-transform pairs, and Laplace-transform pairs.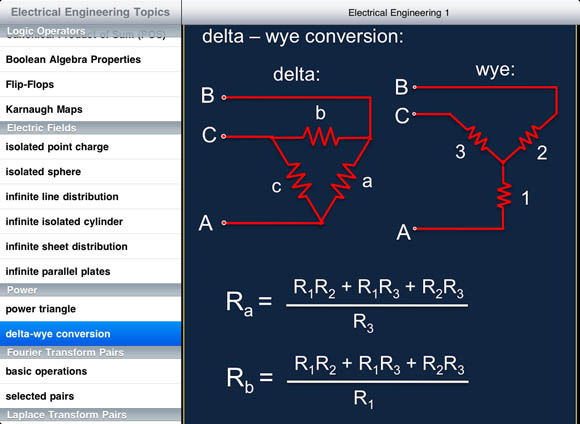 It's unlikely that electrical engineering 1 will change you life — maybe invest in a soldering iron?
Over on the audio side of things, dB Calc (99¢, three stars) is a straightforward calculator that'd be useful if your working life requires making decibel-related conversions. Nothing fancy, to be sure, but neither are decibel-related conversions.
Function Generator Pad ($2.99) is a 13-channel combo audio function generator and audio sweep generator, with channel-panning, frequencies from one to 20KHz, and wave forms that include sine, triangle, sawtooth, and square, plus the ability to generate both white and pink noise. Not insanely useful, maybe, but clearly worth three simoleans for audio buffs such as your humble Reg reporter.
On the other end of the, uh, spectrum is Spectrum Pad ($2.99), an audio spectrum analyzer that lets you adjust both the displayed frequency (up to 20kHz) and FFT (128 to over 130,000 bins) ranges.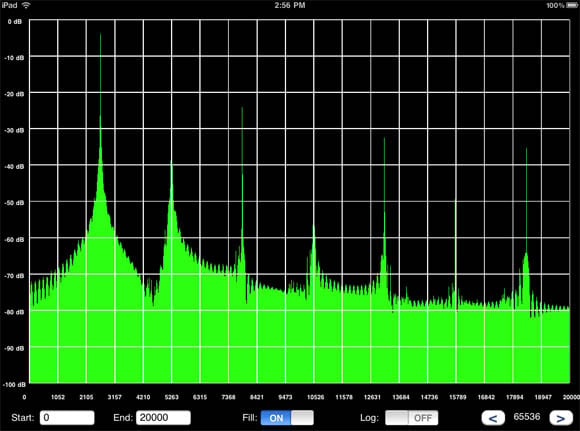 Spectrum Pad lets you toggle its logarithmic mode
COMMENTS
admin, coders and geeks ...
need control to execute the tasks they do, without having to go to an app store every 5 mins to pay for a tool that does ping, then another that does arp, then another that split files, then another that allows you to actually store a file, then another that allows you grep a file, then another that allows yo to share grepped files ...
otherwise I can see a lot of these people becoming very poor very quickly :D
Use your iPad for something more ... mainstream I'd say :D
Or jailbreak it and run BSD and X on it
But the IPAD was supposed to be an IFAD
So why are so many companies producing tablets and software?? whats going on ????
I thought no one would buy this thing becuase it sounded like a sanitary product??
still not iSSH
You mention pTerm and yet still no mention of iSSH. If you haven't done a review of it yet, then seriously do yourself a favour and give it a go. Try running X clients over ssh from it. It's the beezneez
I'm getting sick of
some clueless moron wrote about iCrap for "Geek".
The true geek, or often referred to as the "ultimate geek" would at least have some self respect. No self respect geek would ever touch any iCrap.
The first thing any true geek would do, is to be the boss. A true geek will never accept someone else tells him/her what he/she can do.
iCrap
119 applications you dont really need, that can be done on 119 other things if you didn need them
http://www.theregister.co.uk/Design/graphics/icons/comment/fail_32.png