119 iPad apps for admins, coders, and geeks
Stuff for web monkeys, iPad junkies, EE flunkies
iPad utilities
You know you're a proud, self-realized geek when you simply must know what's going on under the hood of any electronic device that you own — even if the information you divine is not of any particularly practical value.
Pad Info (free - for now, two and a half stars), for example, will fill you in on just about all the basics about your iPad's system state: memory breakdown, battery life, general device info, storage space, and address info. For the average user, the stats are just of passing interest, but for an iPad-app developer, they can come in mighty handy.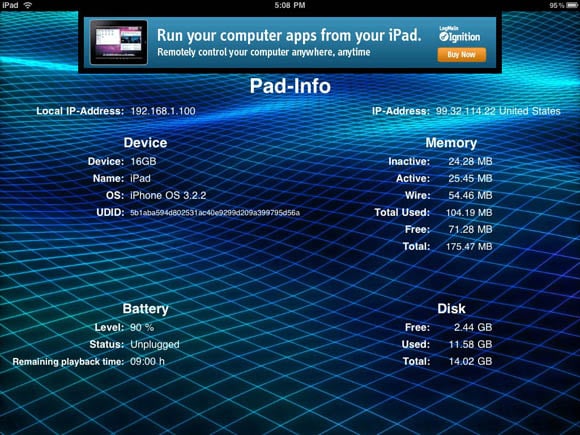 Pad Info provides — what else? — info about you iPad, all for free (though you'll see rotating ads)
Pad info is by no means alone in the iPad system-monitoring sphere. System Activity Monitor for iPad ($2.99, three stars), does pretty much the same duty, but the developer proudly states that it frees iPad memory when it launches — well, actually, they say "FREES MEMORY AUTOMATICALLY ON START." They seem awfully proud of that capability.
System Manager for iPad ($1.99, four stars) adds a few features such as battery-saving tips, detailed background-process monitoring, more-complete wireless info (including connection speed), and other fun stuff. It's also, in our opinion, the most attractive of the system-monitoring bunch.
Finally, there's SystemInfo for iPad ($1.99, four stars), which also provides a goodly amount of info, including estimates of the amount of battery life you have remaining for a few different usage scenarios. It's a bit garish for our refined tastes, but as the Romans would say, "De gustibus non est disputandum."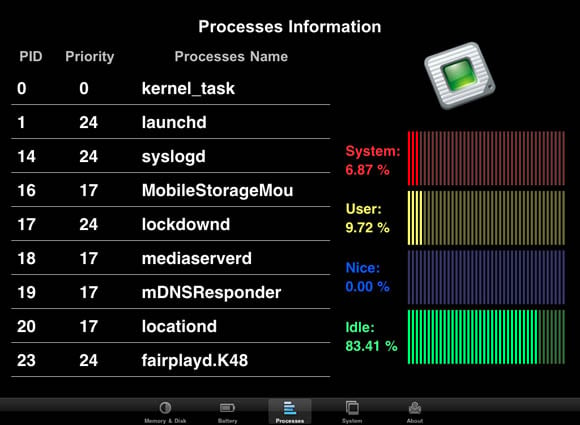 We're puzzled by the cough-drop-on-foil in the upper right corner of SystemInfo's Processes Information screen
If you don't need a full-scale system-info app, there are a few specialized freebies available, as well: MAC Address (free, three stars) provides your UDID, internal and external IP addresses, and — as might be guessed — your MAC address. Two Toasters UDID Finder/Sender (free, three stars) has a long name for an app so short on abilities: it displays your iPad's UDID and lets you email it. UDID Tool (free, four and a half stars) does the same, but with a more-compact moniker.
We're not even going to bother to list all the various and sundry battery-monitoring apps available — we counted well over a dozen. We confess to not examining them all, but we did discover two, Battery HD Pro (99¢, three and a half stars) and Battery Acid - Battery Health Monitor for iPad ($1.99, three stars), that let you adjust their time-available estimates for different usage scenarios based upon the health and age of your battery.
We'd be remiss, however, if we didn't point out that Battery HD Pro has a lovely bubbling-battery animation, and that Battery Acid lets you use your own photos as background images. Both meaningless-though-fun features, to be sure, but Battery Acid wins our love due to its developer's name: ALL CAPS APPS, LLC.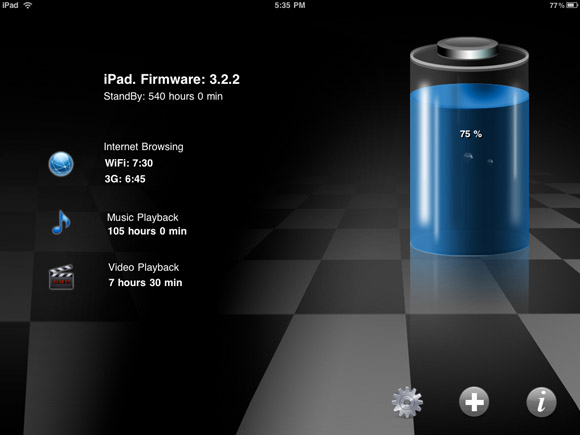 Battery HD Pro may not improve your overall iPad experience, but it will let you pick its battery-image color
Sponsored: Minds Mastering Machines - Call for papers now open