Death by iPod: beware the zombie trance
Mind how you go
A 46 year-old woman wearing headphones was run over and killed by an ambulance in Sydney, Australia at the weekend. Police think she may not have heard the sirens.
If so, the victim is a case of Death by iPod - a bugbear of NSW Police who blame careless music playing, headphone wearing walkers for a 25 per cent rise in pedestrian road casualties in New South Wales last year.
Or to be more precise, they are blaming people for playing music on their MP3 player , getting distracted, and even going into an "iPod Zombie trance".
In 2008 the NSW Police issued a series of road safety posters warning people of the danger. We reproduce one below: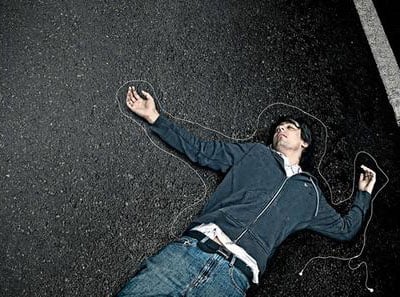 And in 2009, they announced a crackdown on iPod-wearing pedestrians, pledging to dole out $100 fines or prosecute if they were the cause of traffic accidents.
COMMENTS
In this day and age, no one takes responsibility for their own actions.
People wander across the road without looking because they know the cars will stop for them. Its not just the headphone crew. I've seen people crossing the road with phone against head and no chance to hear or see me coming. Some cross the road diagonally (thus increasing their time on the road) with their back to the traffic and not a care in their head.
All this falls down when the car can't see them. Maybe the driver is tuning in the radio. Maybe the sun glare blinds them for a moment. Maybe its dark and the person in the road is in black. Its not always the drivers fault when someone steps off the road just in front of them.
I propose one method that will reduce road deaths.
Fit cars with cameras. If the recording shows the person didn't bother looking when crossing, the driver gets off with it. Possibly with the right to sue the pedestrian (or their estate should they not survive) for damage to their car. (will need exceptions for blind, etc but still workable)
Sure, there will be a lot more road deaths in the first month, but I bet the second month there are next to zero.
A very modern problem
Three times over the weekend I had twunts walk straight into me because they had their noses stuffed into their phones while wandering along busy streets.
Normally I would take evasive action and allow them bumble on their way, but recently I've decided to point out the error of their ways by allowing them to collide with me.
It's quite amusing to see the confused expressisons and stuttered apologies as they surface from their little virtual worlds.
Darwin....
Darwin my dear friends, Darwin.
Whatever happened to...
...the Green Cross Code Man? He'd be dismayed.
I SAID, THE GREEN CROSS.... Oh, never mind.
Sorry dont agree
Sorry Jason, but your arguments dont stand.
1) Deaf people realise they have lost one sense so they make up for it by being extraordinarily attentive to the other ones. For one, they are very unlikely to cross a major intersection without waiting for the little green man and they will use their eyes to make sure the path is clear before ever putting one foot on to the road.
2) No-one is saying you will be punished for "f*cking up" as you so fabulously put it. You will get a A$100 fine if you walk out on to the road without looking, against the red man, and whilst wearing headphones/earplugs. This is already a law (whether your wearing headphones/earplugs or not). This sounds to me like the police are just putting everyone on notice that they are going to start enforcing this law. And the prosecutions for causing an accident, seem reasonable to me. Whether your wearing headphones or not, if you cause an accident by being stupid or inattentive then you deserve to feel the brunt of the law.
3) I'm just going to ignore your third paragprah as useless hyperbole.
4) Pedestrians still get the right of way in most cases but it is a give and take situation. When you are driving and you approach a set of traffic lights which are green you have a reasonable expectation that this means people are not going to step out in front of you. Just as for a pedestrian, when the little green man is lit up you have an expectation that a car is not going to run a red light and knock you down whilst your crossing. Its all about consideration. And when a car driver does hit a person who has stepped directly into the path of their car with no chance to brake in time, its more then one life thats ruined. Not only does it affect the family of the victim, but the driver of the car is usually shattered as well - no-one likes to be responsible for the death or incapacitation of someone else...
So you can call this an attack on people's liberty and their right to make mistakes, but I cannot see it that way. If this campagin stops one person from being bulldozed to death because they werent paying attention, then thats a dozen people connected to that person who avoid having their lives torn apart as well, and for me thats a damn good thing...