Ubuntu 'Maverick Meerkat' erects own App Store
Beta mongoose flaunts new face
Gwibber greased
Gwibber itself has been updated to work with Twitter's new OAuth-based authentication. Gwibber has also switched backends, which should make the app faster, but sadly, it means no more syncing across your computers.
Another musical change in Maverick is the new sound pane, which features a revamped slider and now includes the currently playing track along with basic play/pause and skip buttons — a bit like Rhythmbox's minimized view living in your top panel. Some of the alpha builds also included playlist support, but that's been removed for now.
Maverick also sees the departure of F-Shot, the long-time default photo manager for GNOME. In its place, you'll find Shotwell, which I covered in depth earlier this year in a round-up of Linux photo managers. While Shotwell still isn't quite as full-featured as F-Spot, its interface is considerably better and it's rapidly turning into a great little photo viewer/editor. Of course, if you prefer F-Spot, it's just a couple clicks away in that slick new Software Center.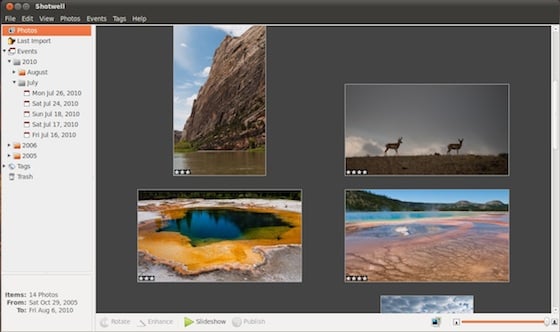 F-Shot bows to Ubuntu Shotwell
As with nearly every release of Ubuntu, the installation process has seen a slight makeover. In this round, the improvements mean installation has fewer steps and starts installing while it's gathering your info. The installation screen also offers to install the all-important multimedia codecs without making a separate trip to Software Center.
There are also numerous changes under the hood in Ubuntu 10.10, including an updated kernel, the usual slew of updated GNOME apps, and even a new touch-based, gesture-recognition engine designed to give Ubuntu support for multi-touch gestures and touch-screen interfaces.
Keep in mind that this is still a beta release and numerous bugs exist. You can read through the known issues on the Ubuntu website. Still, while this early look is clearly a beta, Ubuntu 10.10 is shaping up to be a nice update to the rather major overhaul that arrived with Ubuntu 10.04. The final version of Ubuntu 10.10 is slated to arrive October 10. ®
Sponsored: Minds Mastering Machines - Call for papers now open