Acer to chip up home Nas box
EasyStore gets faster, more power hungry CPU
Acer has said it'll update its EasyStore four-drive Nas box later this month with a new Intel Atom processor.
The EasyStore H341 has the 1.66GHz Atom D410 on board - its predecessor, the H340 - reviewed here - had the 1.60GHz Atom 230, now officially end-of-lifed by the chip maker.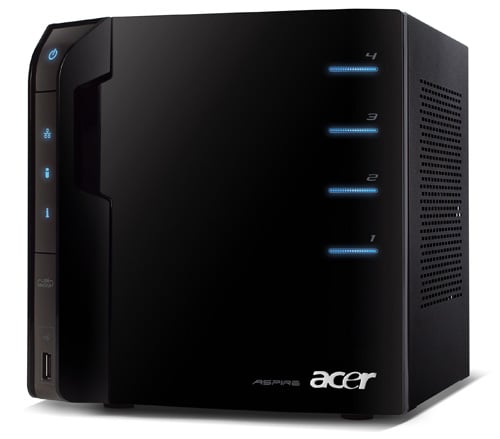 That should speed up the box's Windows Home Server a smidge, but since the D410 consumes more that twice the power of the 230 - 10W to 4W - it'll do nothing for the EasyStore's power conservation properties.
Other specs remain as before. The H341 takes up to four 2TB 3.5in Sata hot-swap hard drives on which content is stored and served by Windows file sharing, iTunes' DAAP and DLNA.
Acer says it's state prices when the box is released mid-September. The current model is available for around £300 with 2TB of storage. ®
COMMENTS
They Do...
Beat me to it!
My D510 box uses a lot less power than the 230 box it replaced, around 10W less.
Surely some mistake?
I think you've overlooked the fact that the 945-based chipset supporting the Atom 230 consumed significantly more power than either the Atom 230 CPU or the NM10 chipset. So, the power consumption of the whole system should be no greater than before, if Intel's claims for the power consumption of the 2nd gen Atom platform stack up.