Toshiba launches telly-connected media drive
Why wasn't the new Apple TV like this?
Toshiba has at long last launched the TV-connected hard drive it showed us in a backroom way back in February.
Then, the StorE TV+ had a specification sheet with rather a lot of 'to be determined' labels on it. Now, it's all sorted: 2TB of hard drive storage; HDMI and component-video ports; SD memory card slot' two USB 2.0 ports; 802.11n and 10/100Mb/s Ethernet connectivity; and a 2in LCD screen on the front so you don't have to turn the telly on just to play some music.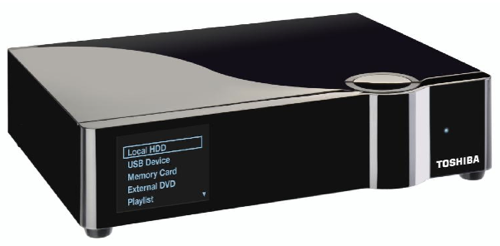 The format support is impressive, including Ogg and Flac on the audio side - plus all the usual suspects - and MPEG 1, 2 and 4, H.264, VC-1 codecs - plus AVI, WMV, MKV, MOV and MP4 containers - for video.
All that's missing, it seems, is DivX/Xvid, but it will handle 1080p output.
An array of subtitle formats are supported too, fans of foreign film will be pleased to read.
The black 206 x 160 x 47mm box comes with its own remote control - and the knowledge that it gets right what the Apple TV got wrong.
The Toshiba StorE TV+ goes on sale later this month for £200. ®
COMMENTS
"All that's missing, it seems, is DivX/Xvid"
So "all that's missing" is the video format that (I presume) the vast majority would wish to watch? Well played Tosh, well played.
Toshiba box
Are you insane? Why on earth would I want that lump anywhere near my telly?
Why don't you point out the Apple exchange rate of £1=$1?
What you mean to say is;
What the Apple TV gets wrong in your not particularly humble opinion.
So where do I get my TV/Film content to put on this thing? I either illegally download it - no further comment necessary... or i quasi-legally rip my dvd's to it... a process I'm not unfamiliar with... but wait? by the time i've ripped and transcoded a DVD I've spent about two to three hours on the process ++ whatever amount of time it takes to copy the content across to the device (which i assume to be an insignificant proportion of time, but anyway).
On my Apple TV, if i want to stream content off my Macbook to the tv I have to press a couple of buttons and wait a few seconds... The contents took a few minutes to download on iTunes over my 50 meg cable and cost, on average, £2-3 less per film than the dvd version did anyway...if we're talking HD tv series, a quick spot check of ten different TV series' I have on iTunes, compared to those same titles on blu-ray reveals I saved approximately £300 on just ten series. I've got a lot more than ten.
So the new Apple TV costs £123 less than the old one did and doesn't come with local storage - no loss - I never used it anyway. I'd much rather have an Apple TV than this thing.