Toshiba touts £329 Folio Android tablet
'Failio' spec?
Do computer companies never learn from history? Clearly not, if Toshiba is anything to go by. Today, it launched its Android tablet, revealing the gadget is called Folio.
Does Toshiba not recall the Palm Foleo, quickly re-christened the Faileo by pundits?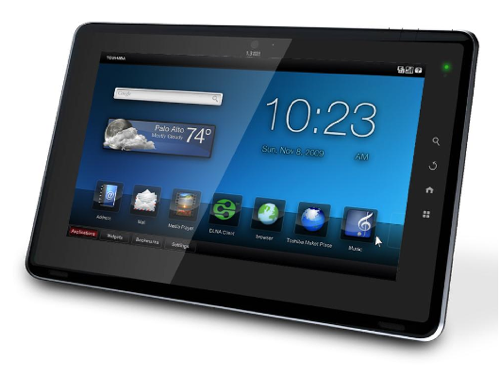 Still, the Tosh offering has an impressive non-fail spec: Nvidia Tegra 2 CPU/GPU; 10.1in, 600 x 1024 display; Android 2.2; 16GB of Flash storage with an SD card slot for more; HDMI output; 1.3Mp webcam.
The Folio 100 has 802.11n Wi-Fi, Bluetooth 2.1 and - if you're prepared to wait until Q1 2011 - 3G connectivity too.
Like Samsung's Galaxy Tab, the Folio is DLNA'd up for media streaming and sharing. It ships with Opera for browsing, and Documents To Go for reading and editing office docs.
Toshiba claimed the battery is good for seven hours, which is not impressive. The tablet weighs 760g and measures 281 x 181 x 14mm - so it's quite a chunky boy, too.
The price is £329 and it'll be out here next month. ®
COMMENTS
Weird flash back just there
I am the great Palm Foleo. I need teepee for my bunghole.
That is all...
I'm not sold on the widescreen aspect ratios
They make these things look a very uncomfortable shape when you're in portrait orientation. I think the point of widescreens is that wider feels more natural to a point; as soon as you rotate it 90 degrees all you've achieved is extremely uncomfortable thinness.
Any news on a 4:3 Android tablet?
:) You, too? Use tap washers and instant glue!
Same thing happened to this Tosh I.m typing on. Seems to be a 'feature'.
I removed the remaining feet, bought some chunky tap washers and used instant glue - been working for 3 years so far!
I wonder if it has rubber feet and whether they remain attached
A company I worked for standardised on Tosh laptops but they all had a problem in common.
Some of the rubber feet would always fall off the computers - usually so that they rocked when the keyboards were used. Getting replacement feet from Toshiba was impossible.
They no longer buy Tosh products of any type.
Re: Widescreen aspect ratios
Come on, you have to at least let the companies milk the fail for a little while longer! The sensible 4:3 ratio will début in a few generations time and be heralded as the must-have new feature. Bit like the way matt laptop screens are back in vogue and marketed as being easier to read (who'd have thought it, eh?)