Samsung specs up 7in Android tablet
Vodafone to sell it
Samsung has posted the spec for its upcoming Android tablet, the Galaxy Tab. And Vodafone has announced availability.
What we have behind its shiny, 190 x 121 x 12mm, 380g shell is a 1GHz ARM A8 processor with a PowerVR SGX540 graphics core - rather similar to Apple's A4 chip, in other words. It has 512MB of Ram to play with and 16GB or 32GB of storage, though there's also an SDHC memory card slot.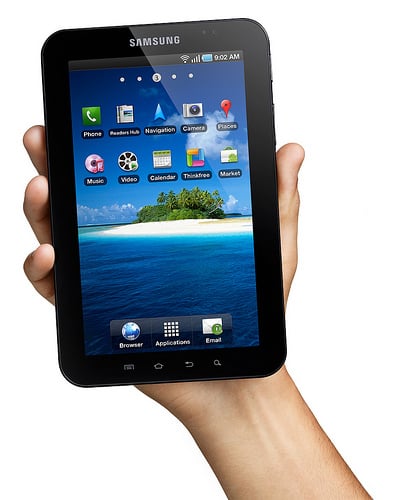 The screen, already stated to be 7in, has a resolution of 600 x 1024. There's a 1.3Mp front-facing camera for video calls, and a 3Mp camera on the back.
Video calls? Yes, the Tab is a 7.2Mb/s, 5.8Mb/s HSPA tri-band 3G device with a quad-band GSM/GPRS/Edge link for back-up. It also has 802.11n Wi-Fi and Bluetooth 3.0.
Samsung has built in a 4000mAh battery good, it claimed, for seven hours' video play.
It'll run Andoid 2.2.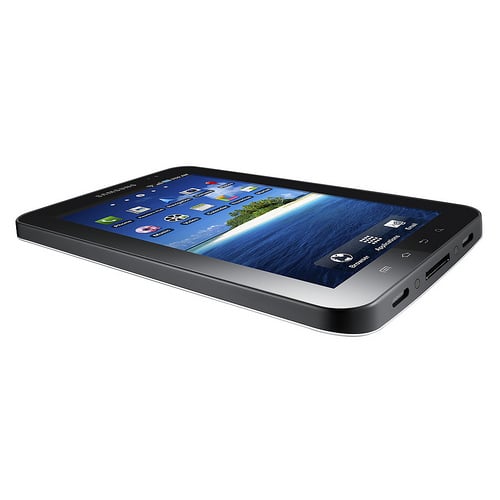 There's video support for DivX, XviD, MPEG4, H.263, H.264 and "more", and it plays Flash 10.1 content.
The Galaxy Tab will start selling in October through Vodafone, for one, though right now the operator is keeping mum about pricing. So is Samsung. ®
COMMENTS
Re: Want!
It has a 30-pin connector that feeds to USB. Samsung also talks about a Mini USB port.
Bother me not with your vapor wares!
At least a month away for Vodaphone, no release announcement for the US beyond 'a few months later', no price, no demos, just some specs and a handful of photoshops. Samsung's own website isn't much better, either, with the two videos again only showing mockups of the hardware and faked screens.
Wake me up when there's an actual review of an existent device.
Capacitive
I don't know why you needed to ask unless you're unfamiliar with how the product is being lined up but it has to be capacitive. There's no way it would be popular with resistive and those are generally kept for cheaper or more rugged designs where looks and function are limited to set tasks like building sites perhaps.
HELLO!
Dom Joly wants his phone back.
Tablets have a market
Tablets are here to stay. It is a market that existed but nobody had approached it right.
Technophobes can use an iPad or similar tablet as they are very simple to use.
There's usually no filemanager and more importantly no technical things to worry about like "format" functions, defrag and so on.
It's truly a device you could hand to a computer beginner and they would work out how to use it while not being able to destroy it too easily.