New iPod crew: 'Phoney, futuristic, retro, doomed'
Apple admits error shock
iPod nano
The iPod nano received the most radical makeover Wednesday, being transformed from a movie-taking handheld in a traditional click-wheel-and-screen colorful-rectangle form factor, into a camera-less clip-on with an FM tuner and multi-touch controls in a colorful square.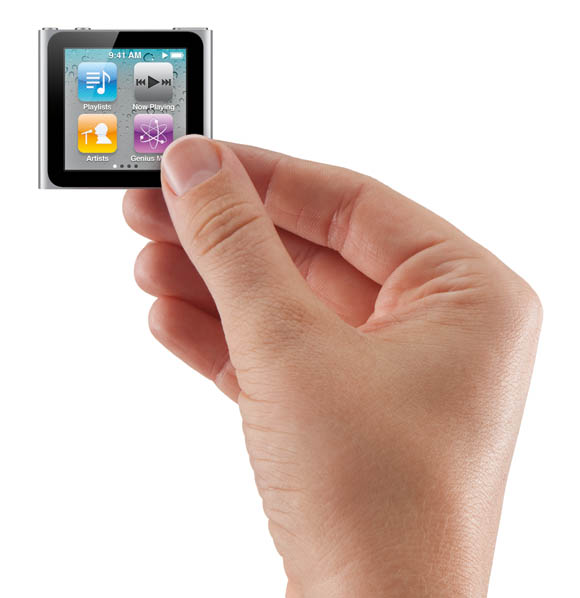 Good-bye video camera, hello FM radio and miniscule multi-touch display
The design overhaul is "the biggest reinvention of the iPod nano since its debut in 2005," Jobs said in a statement accompanying the little fellow's debut — and for once he wasn't exaggerating.
The clickwheel that had graced the iPod nano's face since its introduction is gone, replaced by a 1.54-inch, 220ppi, 240x240-pixel TFT display — not unlike the one the The Reg showed you in July thanks to a tip from some far-east fanbois — whose website no longer has the offending image but instead the sad commentary: "Because under some pressure, this content will be deleted. Please be aware and understanding."
The clip-equipped music player is small, indeed — 37.5-by-40.9-by-8.8 millimeters — and weighs just over 21 grams. Navigation and controls are accessed by tapping and swiping the display, and control icons can be moved among what appear to be (Apple doesn't say, specifically) four home screens.
The midget musician includes an accelerometer to keep the display correctly oriented, and also a pedometer to support the built-in Nike + iPod runner's link-up that Apple has been pushing for years, but which has never really lit up the fanbois firmament.
The new iPod nano will be available next week in silver, graphite, blue, green, orange, and pink anodized aluminum at $149 for 8GB and $179 for 16GB.
Sponsored: Minds Mastering Machines - Call for papers now open