Apple Magic Trackpad
Let your fingers do the working
Review You've got to hand it to Apple. While it may not be the innovator it likes to think it is, it does have a knack for re-inventing old ideas and coming up with something better. Music players, small form-factor computers, tablet PCs - it's taken existing concepts and given them a major makeover.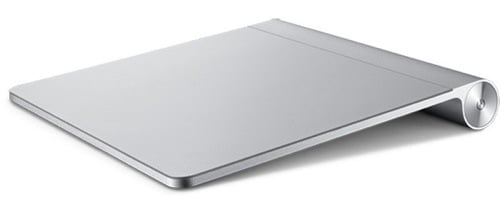 Apple's Magic Trackpad: actually, it might be
And it's now done the same with the trackpad. Small-size tablets for navigation have been around for years, but Apple's Magic Trackpad is one of the first aimed at mainstream users. And while the company has desktop owners in mind for the MT's audience, as a laptop user, I'm keen on it too.
Apple has pioneered the use of larger trackpads on laptops and the introduction of greater levels of gesture control. Yes, there are Synaptics trackpads out there that deliver similar functionality, but the vast majority of Windows laptops have far more basic units built in. You might get 'pinch to zoom' or, if you're really lucky, two-finger scrolling.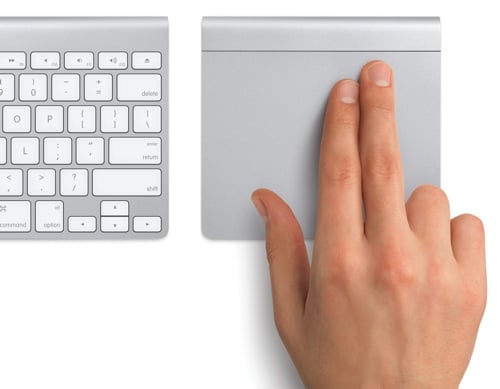 The right place to put a control device
Maybe it's because I use a mouse more than my notebooks' trackpads, but I find that a device placed to the right of the computer is more convenient to reach to that one in front of the keyboard. That said, the problem with a mouse is that you need space to move it around in. Inevitably, you'll find it pushing up against mugs, notepads and other desktop paraphernalia.

COMMENTS
OMG...
...user replaceable batteries in an Apple product!
iCock
Yeah Apple, thanks a lot for not considering the bad feng-shui of having to equip old computers with a Bluetooth dongle.
In fact, why stop there - damned inconsiderate of them not to take account of those of us without computers at all! What's that all about, eh? Eh?
in fact, fuck it why not go the whole hog- Apple, you're just a bunch of self-serving pricks who are only focused on COMPUTER USERS from the LAST 10 YEARS who want to get on and USE THEIR SYSTEMS - how DARE you!?!?!?! What about the rest of the population? What about little kids in Africa who don't have a computer and never will have - or what about PETS and ANIMALS who can't even type - did you consider them in your drive to develop genuinely useful stuff? No of course not, you inconsiderate bastards!
</sarcasm>
Innovation?
>> "While it may not be the innovator it likes to think it is, it does have a knack for re-inventing old ideas and coming up with something better."
Isn't that the essence of innovation? It is very seldom that inventions come from pure ether or thought-stuff. Oxford dictionary defines the word as follows.
in-no-vate
verb [ intrans. ]
make changes in something established, esp. by introducing new methods, ideas, or products.
ORIGIN mid 16th cent.: from Latin innovare, in- "into" + novare "make new".
-dZ.
Silly boy...
I'll bite. For starters, I cannot recall any tech pundit or Apple representative claiming that this was a first-to-market product, besides, Apple already have quite a few patents about multi-touch and gesture based input, i'd imagine this is one of the fruits of those particular filings. Second, the Bamboo Touch costs **more** than the Magic Trackpad, the 'cheaper' one on Amazon, for instance, doesn't provide a touch interface. It's worth noting that it's RRP is actually more (£20) that the MT. Third, the Bamboo isn't wireless--another USB port taken up and more cables to snag. Fourth, the Bamboo will show as many marks as the MT and with that you really are clutching at straws!
I don't believe anyone would have an issue with legitimate complaints, but you just sound like a bitter [insert Apple rival here] fanboy with a very dull and tired rhetoric. Here's a thought; stop reading articles about Apple, their products, employees or users/consumers--they clearly piss you off an awful lot, or will you stop when the school holidays are finished?
The only gesture fit for your comments is an open fist, waved from side to side...
"but why would I want one on a desk?"
Er, try reading the review, it gives a few reasons!