Less than the sum of its parts
Upgrade options? The hard drive and one of the memory slots are easily accessible, but what's the point? The X125 has 32-bit Windows 7, so there's not much point upping the Ram, and I'm not convinced doing so would really compensate for the single-core CPU, though an SSD will trim the start-up time down from the minute and a half I recorded - not "fast" really, is it, Samsung?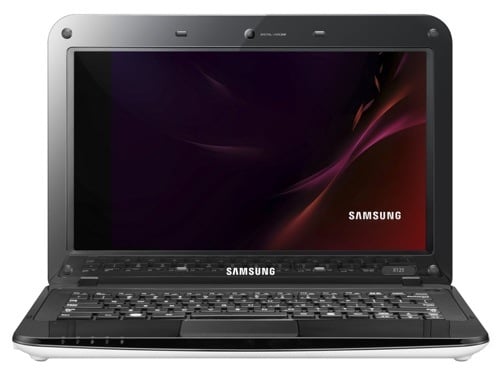 Could be more compact?
Reg Hardware's standard battery life test - loop PCMark Vantage until the battery dies, with the screen on maximum brightness and Wi-Fi on - saw the X125 give up after three and three-quarter hour, which isn't a bad score, but not a leading one. You'll get around 7.5-8 hours for more real-world usage, I'd say.
The 3DMark 06 score of 1133 is good news for (casual) gamers, and the X125 is well able to pump out both 720p and 1080p HD video to its screen or through its HDMI port. That's thanks to the integrated AMD Radeon HD 4225 graphics core.
Samsung provides a decent bundle of utilities, include the tool Fast Booting SW, which, it claims, makes the X125 fall asleep and wake up more quickly. It didn't seem to make much difference when I tried it, though.
Beyond that, Samsung has included Office 2010 - buy the full release or use a free, advert-filled one - and McAfee anti-virus trialware.
Verdict
Samsung has come up with a sexy-looking laptop for folk who want something more powerful than a netbook but not as big as a 13.3in machine. So far, so good, but then Sammy spoils it by lumping the X125 with a slow, single-core processor. I'd cut it some slack if the X125 was cheap, but you buy the faster, dual-core Pentium-based Acer Aspire 1810TZ for less. ®
More 11.6in Laptop Reviews

Packard Bell
Butterfly XS
Acer
Aspire
1825PT
Dell
Alienware
M11x
Toshiba
Satellite
T110

Samsung X125 11.6in notebook
A stylish mini-notebook with an AMD processor.
COMMENTS
"pouring over reviews online"
What precisely were you "pouring" over them, or don't I want to know?
Or for about the same price...
... you could get the Thinkpad X100e (model NTS5EUK), which has a dual-core AMD processor and comes with an internal 3G modem card, and has a quality keyboard and choice of pointing devices. It looks remarkably similar in layout to the Samsung. But you lose the HDMI port, and the battery life is worse (maybe 2-3 hours tops).
Massive Bezel, Tiny keyboard.
Either the massive bezel has made it bigger than it needs to be, or the keyboard is undersized. But whichever - this is an unoptimal setup and something like the Acer 1551, if it ever becomes available in the UK is a far better bet.
athlon ii neo
I wish you'd gotten a neo review out sooner! After much agonizing (and pouring over reviews online) I just bought an Acer Aspire One with the same processor as this samsung.
On windows it was a DOG, and booting was a chore. I only dealt with that for about five minutes before I slapped ubuntu on there. Normal ubuntu froze on boot, but xubuntu installed fine for me, and it's quite zippy. Booting probably takes around twenty seconds and applications start quickly enough, though you're right in that it's not very good at multitasking. I didn't really buy it for that, though, the most multitasking I'll be doing is listening to music while writing, so it's OK. The video card rocks, though, and can handle anything I throw at it (some fancy compiz effect, mainly, and the occasional game) without problems.
My main question, then, is how does this compare to a single core intel atom processor? That really seems more like the appropriate competitor than a dual core notebook processor.
CPU
I find your experience interesting. It is sad to find there are response issues at the level of the user interface.
I wonder could it be the bloat that Samsung loaded the machine with. Ie antivirus software (some as you know are real cpu hogs) and god knows what else.
I can't imagine that much of a slowdown due to a CPU issue solely. My 600 Mhz PIII (1 threaded!) with 512 megs of ram runs xp fine.
If I had that machine, I'd decruft it just to see if it made any difference.