AMD to dump ATI brand
Soon: AMD Radeon and AMD FirePro
The ATI brand is about to disappear, AMD announced Monday.
"The timing is right as far as we're concerned," an AMD spokesman told The Reg, explaining that the company's brand strategy is moving to a "customer-centric approach" and away from processer-centric branding.
The company's Radeon and FirePro brands will remain, but they'll be transitioned to the AMD brand when the next-generation Radeon GPUs appear later this year.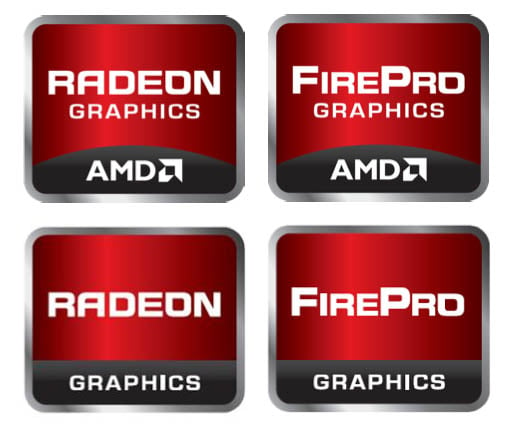 The ATI Radeon and ATI FirePro GPUs will soon be AMD Radeon and AMD FirePro GPUs
According to the spokesman, internally conducted research showed that the AMD brand was stronger than the ATI brand. A company release explained that the survey, which polled "several thousand 'discrete graphics aware' respondents" in the US, UK, Germany, China, Japan, Brazil, and Russia discovered that the AMD brand was stronger than ATI's when compared with other graphics competitors.
In addition, preference for the AMD brand tripled when the respondent was aware of the AMD-ATI merger. It should be noted that those "discrete graphics aware" folks had plenty of time to learn about the merger, which was confirmed over four years ago — at which point, by the way, AMD said it was planning to keep the ATI brand.
The move comes as AMD prepares to launch its long-gestating Fusion line of what the company calls APUs — accelerated processing units — which include CPU, GPU, and other circuitry such as video processing and other application-specific accelerators, all on the same die.
Fusion ships were first discussed shortly after the AMD-ATI merger, and were originally scheduled for release in late 2008 or early 2009. The first Fusion chip, however, was demoed just this June at the Computex conference in Taiwan.
AMD expects to deliver the Ontario Fusion chips based on the company's new Bobcat core in the fourth quarter of this year, and Llano parts based on a tweaked four-core Phenom II core in the first half of next year.
And by then, the ATI brand will be nowhere to be seen. ®
COMMENTS
Who cares
The only people who care about brand names are the ones that either can't be bothered to read reviews and instead base their purchasing decisions on marketing spiel, or the ones that think that progress doesn't happen and that if company A had crap drivers 5 years ago then that must still be the case.
I buy what is the best hardware for the money at the current time and I don't care whose name is on it. I've gone from Intel CPUs to AMD and then back to Intel. I've bought Voodoo, Nvidia, Nvidia, ATI, then Nvidia again, then ATI again. Anyone who has any interest in computer hardware knows that these things go in cycles, and hooray for that, the competition is great for the consumer.
So yeah, while losing the ATI brand for good is a bit nostalgia-inducing and all, in the end it makes zero difference. Free your mind from the marketing brand control.
all very well
but can we PLEASE ditch the stupid model numbers?
Do I want a 4800XXTXX Model G Turbo or a 5200 GTI XXX Rev. 2?
Fuck if I know. I stopped paying attention to this shit a long time ago.
I'm looking at you too, Nvidia. It isn't a Geforce 220XXXXTX GTI X, It's a fucking Geforce 10. Just call it that so we can understand what model it is. PUUUURLEASE.
Title
I wonder if this is so much about getting rid of the ATI brand... or moreso about getting the AMD logo on boxes.
Think about it this way: AMD makes CPUs and GPUs (or whatever you want to call them now with the CPU on the GPU). So you could have an ATI/AMD graphics card and an Intel processor. This means the two stickers on the outside say Intel Inside and ATI Graphics.
Now, with ATI gone it says Intel Inside AMD Graphics. Which causes average Joe punter to say "Oh, those AMD people made part of this computer too? Why not get the one with AMD processor AND AMD graphics... seems to make sense!!!"
I've seen people buy crap monitors because "well it says Dell on it too, it must go with the computer that says Dell on it" and I've seen people refuse to buy new mice and keyboards ("This is the one it came with, I can't use that one!"). I can't help but think that this will be a positive move for AMD.
Normally I'd agree with you
...but I'm not even sure if this even qualifies as a rebranding in the traditional sense. This was a merging of two distinct corporate brands, both of which had well known underlying product brands (Opteron, Radeon, etc) and the two distinct product lines (CPU's/GPU's) are planned to merge very shortly into the new Fusion APU's.
Seems to me that ditching the ATI name is absolutely the right thing to do from a branding standpoint - it would just get too confusing otherwise. I guess they could have kept it for the discrete cards, but really why bother? AMD doesn't have deep pockets and managing extraneous brands isn't cheap.
memories
I remember dreaming about getting a ATI Graphics Pro Turbo(I think that's what it was called) waaay back when(early/mid 90s). Eventually got something even nicer the Number Nine Imagine 128, loved that card. and the Series 2 that followed. Then the Ticket to Ride Revolution IV after that!