Sony NEX-5 interchangeable lens camera
Big shot
Give us a flash
Another space saver, and a throw back to film cameras, is the NEX-5's detachable flash. Given that, unaided, it takes rather lovely images up to ISO 3200, and really excels up to 1600 ISO, if you can't find a light source or tripod to put it on, well shame on you. Still, the pocket-friendly flash, which is about the size of a car key fob, can punch some light onto a scene, admittedly a close scene, if needs must. And if you're keen to experiment, the NEX-5 goes up to ISO 12800, but don't expect miracles at this range.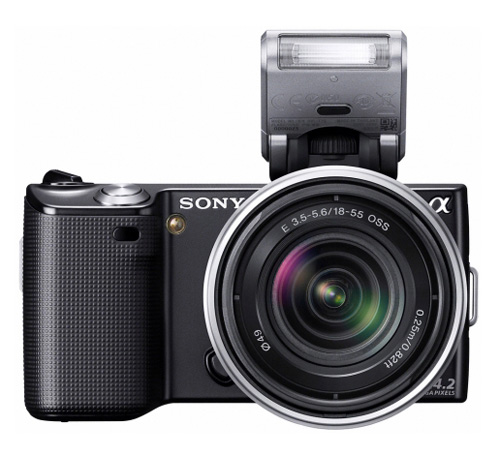 Having a detachable flash helps to keep the body size down
The flashgun slot also doubles up for use with the accessory microphone, which looks like a decent piece of kit from Sony Pro Audio. The camera's tiny internal microphone does a good job too, though.
The rapid-fire panorama is fun and delivers the goods. It takes multiple shots and stitches them up in-camera. From the first go you have something that you are hard pushed to improve, unless you swivel too fast. The Handheld Twilight mode – taking three images to produce a sharp shot when there is hardly any light – works a treat too.
I would love to have tried the 16mm pancake prime f/2.8 as I think that would be a super lens for most quirky wide stuff you need to shoot. And if you want things wider still, there's even a fisheye adapter for it. At the other end of the scale, the 18-200mm f/3.5-6.3 due in September should satisfy those who only want to own one lens.
If you do opt for a Sony adaptor for Alpha/Minolta lenses or others with adapters from Rayqual and Novoflex, you will lose the autofocus feature – which is a selling point here. Still if you already own some decent glass and want a smaller form factor, then sacrificing the autofocus to consider these options may well be worth it. Talking of options, the card slot takes both SD cards and Sony's Memory Stick, but accommodating both form factors does make inserting a card a little fiddly.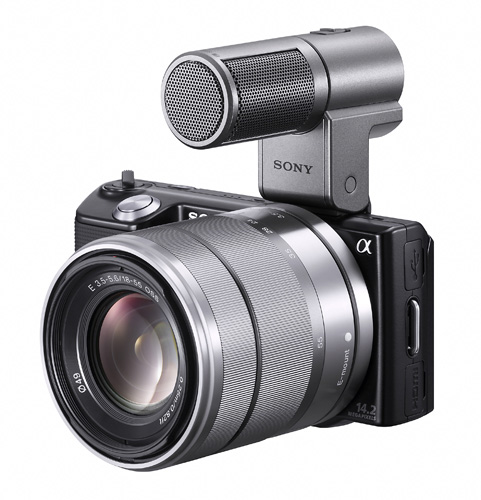 An external microphone is available that also utilises the flash slot
Battery life is rated at around 330 shots, but I was keen to see how long it would survive for video work. Overall, it lasted around 40mins with on-screen monitoring and video recording.