Sony NEX-5 interchangeable lens camera
Big shot
Navigation
For beginners, it has sensible explanations for all functions, especially the Scene modes, with nice graphics, so you can navigate quickly. If you prefer to switch to manual, in this mode the display indicates how your settings are to an acceptable shot. Shutter and aperture are displayed and when selected are altered then with the parameter wheel.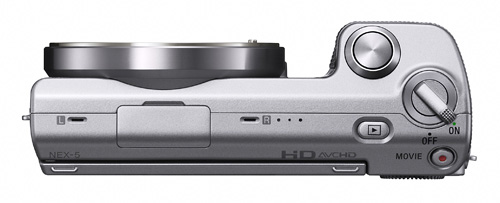 No PASM dial here, as many users will stick with auto anyway
In fixed AF mode it can rapid burst up to 7fps. If there is a criticism, it is that the more you get into using this device the quicker you want it to work and a lack of buttons does hamper this. Given that it hits the mark so fast from start up, it would be great to be able to alter the ISO from a dedicated key. Even so, using the autofocus, with a manual finishing touch, gets it in the ballpark swiftly and then you can simply override to track someone, or really concentrate on a feature on that object.
Capturing video in AVCHD 1920x1080 or MP4 1440x1080 format delivers top-notch quality with no obvious artefacts, at a reasonable data rate too. Its continuous autofocus and aperture control, coupled with good image stabilisation, makes this an ideal go anywhere video camera. By contrast, you can put it on a tripod, and shoot everything manual, if desired.
I like too, how it mixed with two Canon cams without blowing out highlights or being too muddy in the browns of tungsten light. It really does do a good job of mimicking those larger body systems. So for once, here is a compact camera with an emphasis on the lens and the sensor, rather than how many bells and whistles there are on the outside. There are some nice 'program modes' but this is a system where they have put quality of the optics first.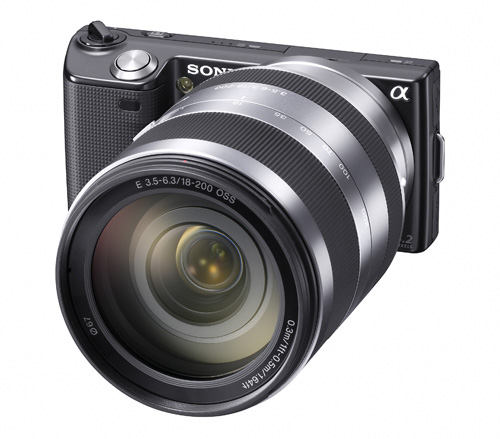 Lenses? We've heard of them. The 18-200mm zoom is due out soon
With the larger 18-200mm zoom attached the NEX-5 is undoubtedly bulky, but tethered to the 18-55mm lens, it just fits in your hand. Dangling from the strap, it feels like it could live with a few knocks on the outside of your jacket. This camera truly can go anywhere and with its weighted focus and zoom rings, it actually screams pick me up and take something.