Smiths publishes Samsung Slide e-book reader
Snazzy gadget arrives in UK
Samsung's E60 e-book reader has arrived on UK shelves courtesy of newsagent WHSmith.
And its offering the device for £200 - down from £300.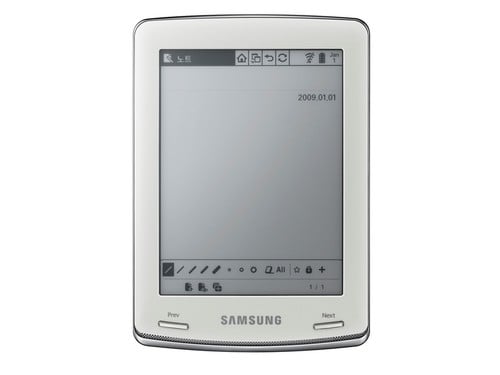 If that seems pricey for an e-book reader, it's because the 6in Samsung reader - the E Ink display has a 600 x 800 resolution - has a slide-out control pad. It also has built-in 802.11b/g Wi-Fi.
It also comes with an electromagnetic resonance stylus to allow you to highlight passages, make marginalia, enter calendar appointments and scribble general notes. The E60 has handwriting recognition on board too.
For e-book storage, there's 2GB of internal memory, augmented by any SDHC cards you care to slot into the E60.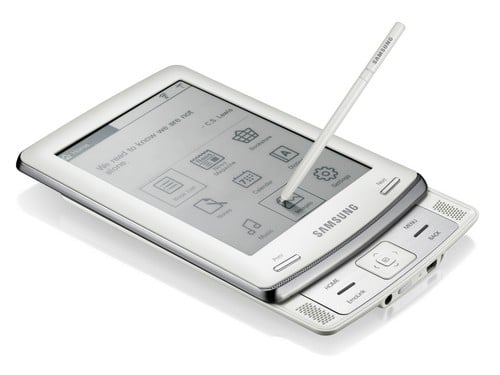 The global eBook formats ePub, PDF and TXT are all supported, and the built-in dictionaries can be used just by touching the screen with the stylus, WHSmith said.
The E60 is available from the WHSmith website now and will appear in shops on 26 August. ®
COMMENTS
Too expensive, and like Amazon Kindle, not enough pixels and too small.
1. It's much more expensive than the Kindle (less the pricey accessories), so a big mark-up to add needed SDHC support.
2. Like the Kindle, it has too few pixels to view a full page of border-less text, for even a standard paperback, and 6" screens are too damned small, especially in portrait orientation!
I'll wait for 8..10" eBook readers to tip up, with enough pixels e.g. nearer to 1Mega pixels, like the Kindle DX, and support for landscape orientation, maybe even roll up screens.
eBook screens really need to be multiples of Mega pixels, to be proper competition for physical books; you only have to look at limited resolution text printouts, image scans, camera macro shots, and to figure this out.
Getting there...
Knock another £50 off and this is starting to look more attractive...
A plain ebook reader with the ability to make notes in meetings would be quite useful - if (when!) the meeting gets boring then I just start reading a book whilst pretending I'm making notes...
Um ..
Have you seen an e-ink screen? Pixel resolution is broadly irrelevant.