AMD: 'Bobcat' smaller, faster than Intel's Atom
Netbooks. Not servers. For now
Power savers
On the power conservation front, Hoepper says the Bobcat cores has a micro-architecture that was designed to minimize data movement (and hence power consumption and inefficient processing) and has clock gating, power gating, and system low power states to conserve energy. The chip will be able to provide around 90 per cent of the performance of today's mainstream performance in notebooks and netbooks in less than half the die size, according to Hoepper. We will have to wait until the Bobcats are launched to quantify that statement, but that is what AMD's internal modeling and benchmark simulations for Bobcat-based chips are showing.
As AMD previously disclosed when reporting its second quarter results back in mid-July, the company is pushing out the "Llano" Fusion APU chip (which combines a CPU and a GPU in a single package) a few months into 2011. The Llano chip uses the same 32 nanometer process as the first Bulldozer chips do from GlobalFoundries. The word back in July is that the Llanos, which put a quad-core Phenom II-alike chip and a modified version of the Radeon HD5000 series GPU on a chip, will ship sometime in the first half of 2011. (We gave you all the feeds and speeds on Llano back in February.)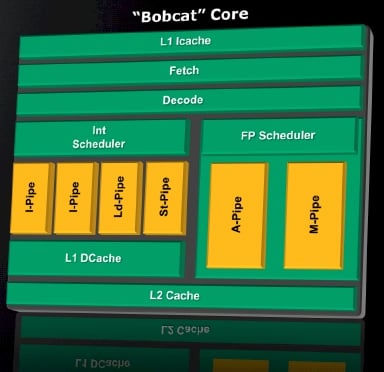 AMD's Bobcat core for netbook, notebook, and desktop PC microprocessors.
The Llanos slipped, but the "Ontario" Fusion APU, which is based on the Bobcat cores and which is aimed at high-end notebooks, is being pulled into this year. AMD is not saying how powerful the Ontario's GPU is, but we know it has two CPU cores and, as Hoepper confirmed, the GPU on the chip will be a variant of the "Evergreen" GPU family at the heart of the discrete graphics cards and GPU co-processors sold by AMD. The CPU and GPU components will link to each other and to main memory over a high-speed, on-chip bus. The Ontario chip is being manufactured by AMD's GPU foundry partner, Taiwan Semiconductor Manufacturing Corp, using its bulk 40 nanometer processes.
The Bobcat core design had a number of goals, according to Hoepper, and one of them is playing out right before out eyes. That was for the design to be portable between different wafer bakers. So if GlobalFoundries is slipping in a process, AMD's economic shoestrings are not tied together. It has another chip cooking at TSMC. The Bobcat design is also meant to push the power envelope down, and can hit below one watt per core of power consumption, according to Hoepper. "The Bobcat core integrates into SoC easier, too," says Hoepper, "and that allows us to do more things than we have been able to do in the past." Like really push into notebooks and netbooks hard and into other peripheral and embedded computing devices.
And perhaps, just perhaps, into low-power servers. Both Freuhe and Hoepper said there were no plans for modifying Bobcat chips to run in server platforms. "There is a lot of hype around ARM going into the server space," concedes Hoepper, "and Bobcat would work well here."
Fruehe says that AMD will be able to get six-core and eight-core Bulldozer chips in the 30 to 40 watt power range, which is pretty low for a server. "The question is this," says Fruehe. "Is there a need for a more discrete, less-threaded chip for servers?"
AMD is open to the idea, but don't hold your breath. Unless ARM, Tilera, and Intel Atom chips start getting some server sales. ®
Sponsored: Minds Mastering Machines - Call for papers now open