Power savers
On the power conservation front, Hoepper says the Bobcat cores has a micro-architecture that was designed to minimize data movement (and hence power consumption and inefficient processing) and has clock gating, power gating, and system low power states to conserve energy. The chip will be able to provide around 90 per cent of the performance of today's mainstream performance in notebooks and netbooks in less than half the die size, according to Hoepper. We will have to wait until the Bobcats are launched to quantify that statement, but that is what AMD's internal modeling and benchmark simulations for Bobcat-based chips are showing.
As AMD previously disclosed when reporting its second quarter results back in mid-July, the company is pushing out the "Llano" Fusion APU chip (which combines a CPU and a GPU in a single package) a few months into 2011. The Llano chip uses the same 32 nanometer process as the first Bulldozer chips do from GlobalFoundries. The word back in July is that the Llanos, which put a quad-core Phenom II-alike chip and a modified version of the Radeon HD5000 series GPU on a chip, will ship sometime in the first half of 2011. (We gave you all the feeds and speeds on Llano back in February.)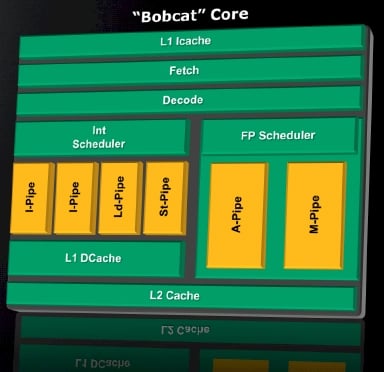 AMD's Bobcat core for netbook, notebook, and desktop PC microprocessors.
The Llanos slipped, but the "Ontario" Fusion APU, which is based on the Bobcat cores and which is aimed at high-end notebooks, is being pulled into this year. AMD is not saying how powerful the Ontario's GPU is, but we know it has two CPU cores and, as Hoepper confirmed, the GPU on the chip will be a variant of the "Evergreen" GPU family at the heart of the discrete graphics cards and GPU co-processors sold by AMD. The CPU and GPU components will link to each other and to main memory over a high-speed, on-chip bus. The Ontario chip is being manufactured by AMD's GPU foundry partner, Taiwan Semiconductor Manufacturing Corp, using its bulk 40 nanometer processes.
The Bobcat core design had a number of goals, according to Hoepper, and one of them is playing out right before out eyes. That was for the design to be portable between different wafer bakers. So if GlobalFoundries is slipping in a process, AMD's economic shoestrings are not tied together. It has another chip cooking at TSMC. The Bobcat design is also meant to push the power envelope down, and can hit below one watt per core of power consumption, according to Hoepper. "The Bobcat core integrates into SoC easier, too," says Hoepper, "and that allows us to do more things than we have been able to do in the past." Like really push into notebooks and netbooks hard and into other peripheral and embedded computing devices.
And perhaps, just perhaps, into low-power servers. Both Freuhe and Hoepper said there were no plans for modifying Bobcat chips to run in server platforms. "There is a lot of hype around ARM going into the server space," concedes Hoepper, "and Bobcat would work well here."
Fruehe says that AMD will be able to get six-core and eight-core Bulldozer chips in the 30 to 40 watt power range, which is pretty low for a server. "The question is this," says Fruehe. "Is there a need for a more discrete, less-threaded chip for servers?"
AMD is open to the idea, but don't hold your breath. Unless ARM, Tilera, and Intel Atom chips start getting some server sales. ®
AMD: 'Bobcat' smaller, faster than Intel's Atom
COMMENTS
I suppose I should put a title here. Nah.
This is a good move for AMD. From what I understand, Intel doesn't want to improve the performance of Atom, or allow it in anything over a certain size, etc., for fear of cannibalizing sales of the beefier chips. AMD can make it as fast as it can, and let you put it in whatever you want - definite advantages for the AMD chips.
Also, some mentioned there was no info on power consumption, well I quote you this, from the last page of the article:
"The Bobcat design is also meant to push the power envelope down, and can hit below one watt per core of power consumption, according to Hoepper."
Sure, it's about what a future chip may be able to do, and not really as specific as one might hope, but it's something. I'm sure we'll find out more before someone forces us to buy one...
Windows 7?
What and double the price of the hardware?
Just give me a pocked sized netbook with this inside and I'll be happy running most Linux on it.
@Hungry Sean
Performance is complicated...
...but a 5Ghz core 2 duo would wreck an i7 at a great many workloads.I think global compute resources have diverged enough that there is space for three different types of x86 CPUs.
Small low power many thread doohickies, good for lots of little programs or web servers. Would make good netbooks, laptops, and maybe would be useful for application virtualisation.
Slightly more beefy midrange things with a moderate (4-8) threads for folks doing some heavy lifting. Rendering, A/V editing or VDI.
Screamingly fast per-thread low core count (2 cores?) designed for workloads that need the straight-line speed and don't multi-thread well.
http://arstechnica.com/old/content/2002/10/hyperthreading.ars/1
The above is an article well worth reading on the topic. I think the complicated nature of performance means that the public's "obsession" with Mhz isn't necessarily wrong. Architecture and attempts to parallelise can only get you so far. There are still plenty of compute tasks for which what you really need is a bloody big bit cruncher going at as high a clock rate as they can make 'em.
Put more simply: CISC !> RISC for all workloads.
Why would the Netbook Mfr's stay with Atoms?
That's not just a feeling about the Atom's capabilities, and it's not an artificially restriction - it is most definitely designed to fit inside a pretty tiny box. Why else would they put screen size restrictions on it - or intentionally limit the I/O bus so you can't really get the full oomph out of that ION2 GPU in your nettop/netbook. Many of Intel's design decisions - like the ECC memory controllers mentioned earlier - are designed to keep their different processor markets tiered and distinct.
To their credit, low-power CPUs were an unexplored/unserved market when Intel created the Atom and I am quite happy with the two Atom-based machines that I own... but at the same time I do have a problem with the Intel's [Low Power] = [Cheap Crippled Shit] equation.
Don't get me wrong, I understand that to achieve significant power efficiency like the 8 hours I get with my netbook I will not be able to have the same performance as my watt-guzzling multi-core full-size laptop that might make it 1:15... but if AMD can deliver a significant improvement in the performance-to-efficiency equation vs. Intel, I can't imagine Netbook, Laptop, and non-ARM "Pad" Manufacturers would stick with Intel just because of market share.
Put it this way, at comparable price points if Mfr. A's AMD-based Netbook can run for 10 hours, effectively run more than one application at a time, and run HD video (flash or otherwise) - and Mfr. B's Intel Atom-based Netbook can run for 10 hours, runs sluggish once you run more than 2 or 3 apps at a time, and skips/stutters all to hell when you try to watch HD video... Mfr. A is going to sell more Netbooks. The real question here IMO is if AMD can deliver.
Not directly
They didn't mention specific wattage, no, but they did mention better power consumption. They didn't mention specific performance figures for the Bobcat either.
And no, it's not all about the watts. It's all about performance per watt. A netbook with a 24-hour battery life is no good if you can't do anything with it during those 24 hours.