AMD: 'Bobcat' smaller, faster than Intel's Atom
Netbooks. Not servers. For now
AMD says that its upcoming "Bobcat" core for netbooks and notebooks is smaller than a single-core Intel Atom chip – and faster. According to the company, this low-power architecture could eventually follow Atom into the server market, but at the moment, that territory is still reserved for the "Bulldozer."
The annual Hot Chips conference is going on this week at Stanford University, and it is a bit more subdued that usual because so many different processors have already been announced this year. Advanced Micro Devices, which has lost a bunch of market share to rival Intel, has been talking up its future "Bobcat" and "Bulldozer" cores for PCs and servers, respectively, and is providing a few more details on these cores at Hot Chips.
But don't get too excited. The Bulldozer chips have a vague 2011 ship date and AMD is not saying much more than it already has in the past several months. The Bulldozer cores, as El Reg told you two weeks ago, have a modular core design where L2 cache, instruction fetch and decode units, and floating point unit schedulers are shared across two cores, which have their own four pipeline integer units and integer schedulers as well as a 128-bit floating point unit.
Depending on the chip, from one to four of these Bulldozer modules are plunked onto a single chip, with an L3 cache, a DDR3 memory controller, and a northbridge for linking the cores to external peripherals shared by all of the modules on the chip. The quasi-core at the heart of the dual-core Bulldozer module is a new core, not a reworked variant of the K8 core used in the prior several generations of Opteron processors.
In the case of the future "Valencia" six-core and eight-core processors, one of these eight-core Bulldozer modules is put into a single package for the C32 socket. For the high-end, two of these eight-core modules are put side-by-side in a single package, called "Interlagos," and linked by HyperTransport, yielding a 16-core processor package (and a twelve-core variant with two dud cores per chip, and probably some of the L3 cache turned off, too). This Interlagos chip plugs into the existing G34 socket.
That means server and workstation makers will be able to deliver systems with 33 per cent more cores and 50 per cent more performance as they can do with the existing "Magny-Cours" Opteron 6100 processors. Ahead of the Hot Chips conference three weeks ago, John Fruehe, director of product marketing for server/workstation products at AMD, blogged those performance numbers in early August, stealing his own Hot Chips thunder to cover for some weak financials.
Fruehe has also said in interviews with El Reg that Bulldozer's shared component approach results in a Bulldozer module with two quasi-cores, and yields about 1.8 times the performance as two current Magny-Cours cores. That's a 10 per cent performance hit, clock for clock, for every pair of cores, but much lower power consumption because of the shared nature of the Bulldozer modules.
That means expanding the core count from 12 to 16 is about 20 per cent of the extra oomph, and the other 30 per cent is coming from changes in the instruction stream and increased clock speeds. It is our guess that AMD will try to push clock speeds up to around 2.75 GHz on its top-bin Interlagos server chips.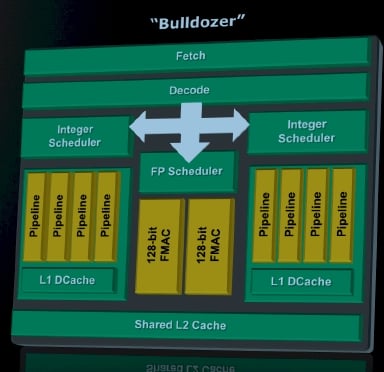 AMD's Bulldozer Opteron modular core.
Ahead of Hot Chips, Fruehe would not confirm the clock speeds on any of the Bulldozer-based parts. But what he did say is that on the commercial workloads that AMD is targeting with the Opteron chips, 90 per cent of the workload is running through the integer unit and 10 per cent is hitting the floating point unit. By sharing the other components on the Bulldozer core, AMD can reduce the effective size of a core and by moving to a 32 nanometer, silicon-on-insulator/high-k metal gate wafer baking process from GlobalFoundries, it can shrink the whole shebang quite a bit from the current 45 nanometer processes. That should lead to higher clock speeds than are currently available on Opteron 6100s.
COMMENTS
I suppose I should put a title here. Nah.
This is a good move for AMD. From what I understand, Intel doesn't want to improve the performance of Atom, or allow it in anything over a certain size, etc., for fear of cannibalizing sales of the beefier chips. AMD can make it as fast as it can, and let you put it in whatever you want - definite advantages for the AMD chips.
Also, some mentioned there was no info on power consumption, well I quote you this, from the last page of the article:
"The Bobcat design is also meant to push the power envelope down, and can hit below one watt per core of power consumption, according to Hoepper."
Sure, it's about what a future chip may be able to do, and not really as specific as one might hope, but it's something. I'm sure we'll find out more before someone forces us to buy one...
Windows 7?
What and double the price of the hardware?
Just give me a pocked sized netbook with this inside and I'll be happy running most Linux on it.
@Hungry Sean
Performance is complicated...
...but a 5Ghz core 2 duo would wreck an i7 at a great many workloads.I think global compute resources have diverged enough that there is space for three different types of x86 CPUs.
Small low power many thread doohickies, good for lots of little programs or web servers. Would make good netbooks, laptops, and maybe would be useful for application virtualisation.
Slightly more beefy midrange things with a moderate (4-8) threads for folks doing some heavy lifting. Rendering, A/V editing or VDI.
Screamingly fast per-thread low core count (2 cores?) designed for workloads that need the straight-line speed and don't multi-thread well.
http://arstechnica.com/old/content/2002/10/hyperthreading.ars/1
The above is an article well worth reading on the topic. I think the complicated nature of performance means that the public's "obsession" with Mhz isn't necessarily wrong. Architecture and attempts to parallelise can only get you so far. There are still plenty of compute tasks for which what you really need is a bloody big bit cruncher going at as high a clock rate as they can make 'em.
Put more simply: CISC !> RISC for all workloads.
Why would the Netbook Mfr's stay with Atoms?
That's not just a feeling about the Atom's capabilities, and it's not an artificially restriction - it is most definitely designed to fit inside a pretty tiny box. Why else would they put screen size restrictions on it - or intentionally limit the I/O bus so you can't really get the full oomph out of that ION2 GPU in your nettop/netbook. Many of Intel's design decisions - like the ECC memory controllers mentioned earlier - are designed to keep their different processor markets tiered and distinct.
To their credit, low-power CPUs were an unexplored/unserved market when Intel created the Atom and I am quite happy with the two Atom-based machines that I own... but at the same time I do have a problem with the Intel's [Low Power] = [Cheap Crippled Shit] equation.
Don't get me wrong, I understand that to achieve significant power efficiency like the 8 hours I get with my netbook I will not be able to have the same performance as my watt-guzzling multi-core full-size laptop that might make it 1:15... but if AMD can deliver a significant improvement in the performance-to-efficiency equation vs. Intel, I can't imagine Netbook, Laptop, and non-ARM "Pad" Manufacturers would stick with Intel just because of market share.
Put it this way, at comparable price points if Mfr. A's AMD-based Netbook can run for 10 hours, effectively run more than one application at a time, and run HD video (flash or otherwise) - and Mfr. B's Intel Atom-based Netbook can run for 10 hours, runs sluggish once you run more than 2 or 3 apps at a time, and skips/stutters all to hell when you try to watch HD video... Mfr. A is going to sell more Netbooks. The real question here IMO is if AMD can deliver.
Not directly
They didn't mention specific wattage, no, but they did mention better power consumption. They didn't mention specific performance figures for the Bobcat either.
And no, it's not all about the watts. It's all about performance per watt. A netbook with a 24-hour battery life is no good if you can't do anything with it during those 24 hours.