Mobile PC buyers buying peppier boxes
Worldwide PC chip units and sales rise in Q2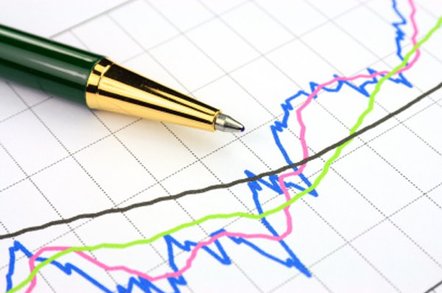 Usually, PC processor shipments fall moving from the first quarter to the second, but in the wake of the economic meltdown, trends continue to wiggle in funny ways as a new level of normality tries to establish itself. Which is why PC chip unit shipments and revenues rose sequentially in the second quarter, according to IDC.
By IDC's math, shipments of processors used in all manner of PCs - desktops, notebooks, netbooks and tablets - dropped sequentially by an average of 2.8 per cent from Q1 to Q2 in years gone by. But this time around, PC processor units have risen by 1.6 per cent moving from Q1 to Q2.
On a year-on-year basis, PC chip shipments are up 3.6 per cent and revenues are up an even faster 6.2 per cent as PC builders anticipate that consumers and corporations are going to continue to buy richer PC configurations with faster processors. IDC's data is a bit skewed by the fact that it still counts x64-based processors for servers in its PC data. (Yeah, that's pretty lazy. And misleading.)
"Such a sequential increase in PC processor shipments alone would have been enough to conclude that the first half was strong for the market," explained Shane Rau, director of semiconductors and personal computing research at IDC. "However, a modest rise in revenues, too, points directly to a rise in average selling prices. System makers bought more and higher-priced PC processors in 2Q10 than in 1Q10. Digging a little deeper into the numbers shows that they bought more mobile processors and more server processors, while desktop processors remained flat."
IDC reckons that mobile PC chip shipments were up 6.5 per cent sequentially, while desktop PC chip shipments were down two-tenths of a per cent sequentially. What IDC calls PC server processors - meaning Xeons used in both high-end PC workstations as well as rack, tower, and blade servers - increased by 6.1 per cent from Q1 to Q2.
In the mobile PC segment, Intel is reckoned to have garnered 86.1 per cent share of chip shipments (down 1.7 per cent), while Advanced Micro Devices got 13.7 per cent share (up 1.6 per cent). VIA Technologies brought in two-tenths of a point of share in the mobile PC segment. In desktop PCs, Intel's share was 72.2 per cent (up a half point), while AMD got 27.3 per cent share (off seven-tenths of a point) and VIA got its half-point share of the racket. For x64 chips used in workstations and servers, Intel had a commanding 93.5 per cent of shipments in the quarter, up 3.3 per cent from the year-ago quarter, and AMD had only 6.5 per cent share, losing 3.3 points compared to Q2 2009. When you average them all out, Intel had an 80.7 per cent share of the x64 chip pie in the second quarter compared to AMD's 19 per cent slice of the pie. Intel lost a tiny bit of share and AMD and VIA gained a tiny bit.
Looking ahead to the remainder of 2010, IDC is forecasting worldwide PC chip shipments will grow by 19.8 per cent (this includes that sliver of server chips, which boost ASPs more than it affects shipments) and says that chip demand had weakened in the second quarter and was expected to continue to be soft through August.
"Major OEMs cut PC build orders with their contract manufacturers who, in turn, have cut orders for commodity components," Rau said. "While the PC processor vendors reiterated their solid outlook during their most recent earnings calls, the softness we've seen ultimately makes us concerned for end demand's pull on processors. Likely, the second half of the year will be seasonal given the early build for Intel's Sandy Bridge and AMD's Fusion architecture launches, but lower than the year-over-year growth seen in the first half of the year. 2011 remains a wildcard in terms of sustainable unit growth."
Maybe so much of a wildcard that Intel went off the board entirely to shell out $7.8bn to buy security software maker McAfee yesterday. Intel can rationalize all it wants, but the company has been buying software companies because it doesn't want its business tied so tightly to the economic cycle. As the past two years have shown, Intel's chip sales are very dramatically lashed to the ups and downs of the economy - mainly because IT is such a big part of the economy now. Intel can no longer grow through recessions as in days gone by. But having an annuity-like services revenue stream sure does help, and McAfee certainly has that. ®
Sponsored: Minds Mastering Machines - Call for papers now open