Lara Croft and The Guardian of Light
Reinvented and revitalised
Teamwork tactics
The combination of shield, spears and Lara's grappling hook allows for interesting and varied puzzling throughout, forcing teamwork as the strategy for success. For example, Totek throws a spear into a wall to create a stepping stone for Lara to surmount an otherwise unreachable height; or Lara casts out a grappling hook and Totek walks the tightrope across a wide chasm.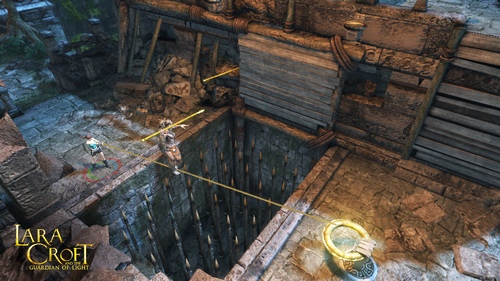 A fine line between life and death
In addition, all the usual Tomb Raider puzzles are present, involving collapsing platforms, switches and levers, and pressure pads - the latter often requiring you to roll around stone balls which look remarkably like giant Ferrero Rocher chocs.
Even though Crystal Dynamics has cleverly adapted The Guardian of Light so it can be played through - and thoroughly enjoyed -in single-player mode, co-op is the recommended approach. Puzzles and combat are more enjoyable when close co-operation and combined thinking is required, and you'll often find yourself laughing together when things go hilariously wrong.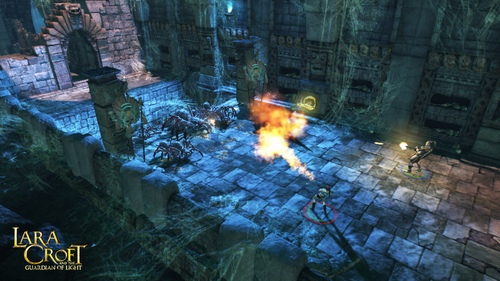 Singey wincey spider
It's galling then, that the Xbox Live Arcade version has been released without online co-op. Rushed to coincide with Microsoft's Summer of Arcade promotion, The Guardian of Light's online co-op is still under development at Crystal Dynamics, and will be released as a patch simultaneously with the PSN and Steam versions. So if you can't get a mate over, you might want to wait until next month to play the game, when you can enjoy the full experience in the comfort of your own homes.