Lara Croft and The Guardian of Light
Reinvented and revitalised
Aztec ruins and mythical creatures
It's not a complete departure from the canon, though. Lara Croft treads her usual path as globetrotting archaeologist and adventurer - this time in Mexico exploring Aztec ruins and combating mythical creatures in a hunt for a powerful artefact known as the Smoke of Mirrors. And she's still still wearing her trademark garb and drawing those dual-pistols from that waist-hugging holster. But this time she's lost all her sex appeal in her new diminutive form.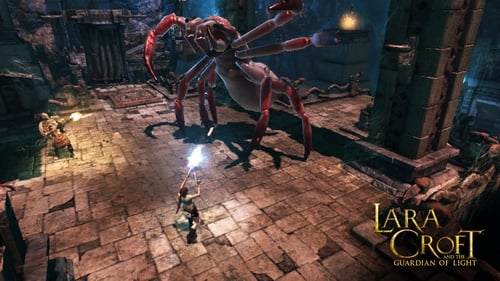 Not for the arachnophobic
As in Alien Breed and Alien Swarm, the isometric viewpoint provides the panoramic playground for myriad enemies, meaning this Lara is more Thumbelina than Angelina. Fortunately, any loss to Lara's exaggerated curves is made up for by the gorgeous graphics elsewhere. Ancient temples come alive in the warm glow of oil lamps, vegetation bounces and sways as you brush past, and you can almost feel the searing haze rising from the rivers of molten lava.
Enemy models and animations are robust and organic, from the smallest lizards and spiders to gigantic golems and fire-breathing T-Rexes. Bullets and rockets dazzle as they streak from weapons and enemies explode in firework neons.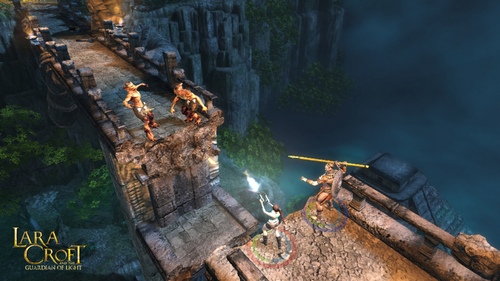 Overkill
With so much going on, it's a good thing Crystal Dynamics introduces co-op 'buddy' gameplay. Playing with two players sees Lara joined on her quest by Totek, an Aztec deity and guardian of the Smoke of Mirrors. The perfect complement to Lara, Totek carries a shield and spears as weapons or as tools for solving puzzles.