Chair maker punts $6,000 iPad recliner
The Lazyfanboi™
What might an obscenely rich, profoundly indolent fanboi choose as the ultimate iPad accessory? Might we suggest the six-thousand dollar Elite Home Theater Seating iPad Chair?
That'd be the Premium Package version of the leather-upholstered recliner, the upgrade that adds butt-shaking sound enhancers, an adjustable headrest, and power-assisted reclining. The plain-vanilla version is a steal at a mere $2,495.
"During the design process, our goal was to design a chair that blended the sleek styling of a European sports car with the clean aesthetic lines of the iPad itself," says Elite HTS founder and CEO Bobby Bala.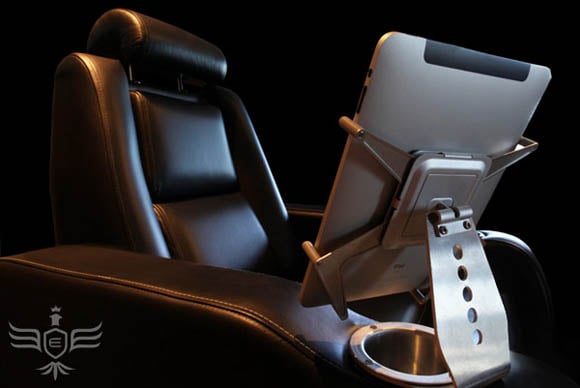 Elite HTS is careful to note: "iPad not included"
Tastes, of course, differ on such matters, but The Reg sees few aesthetic similarities between Bala's iPad Chair and, say, a Porsche 911 GT2 RS.
But we will concede one of Bala's other assertions — that although "The iPad is a user friendly, relaxing tool ... it can be a bit difficult to find the optimum ergonomic position when using it."
To ameliorate that deficiency, the Elite HTS iPad Chair comes equipped with a Luxa2 H4 iPad holder, mounted in one of the the chair's two cupholders, allowing you to "wield the power of the iPad in total relaxation with both hands free."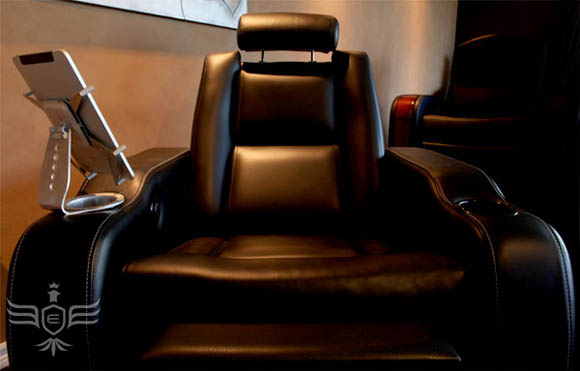 Want the adjustable headrest? It'll cost you
Should you opt for the Premium Package, you can choose from among 15 different colors, including delectable Plum, Chocolate, Wine, and Mocha. The base model is limited to a dowdy Black or Rustic Brown.
The $6K bad boy also includes twin low-frequency Crowson TES 100 drivers mounted below the chair's arms to "transport you into a visceral experience."
You could also choose to install Crestron's Mobile Pro G home-control app to your iPad, which will make your Elite HTS iPad Chair the command center of "your personal fortress", controlling security, entertainment, and environmental options.
"Sitting in the sleek new iPad Chair," Elite HTS's marketing materials gush, "it's hard not to feel a bit like a Star Fleet Officer on the bridge of the Enterprise." ®
Sponsored: Minds Mastering Machines - Call for papers now open