Archos 7 Android tablet
The poor man's iPad?
The virtual keyboard is a decent bit of design that makes typing pretty painless, however, key presses can become a bit wayward close to the periphery of the screen. I managed to type faster using an old HTC Touch stylus I had lying around than using my finger, so Archos should perhaps have considered including a pointy stick.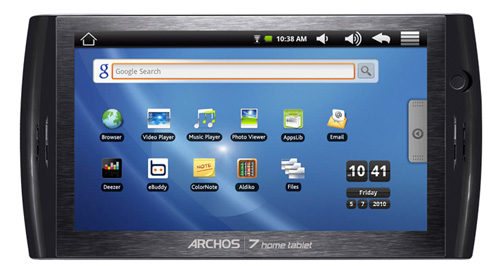 A useful collection of apps, but no Flash support
The 7 runs Android 1.5 and the three panel home screen will be instantly familiar to any Android smartphone user, with the applications tab dragging out from the right. Not being a Google approved device, you can't simply sign into your Google account and gain access to the full Android Market. Instead, there's Archos' own and far smaller apps library called AppsLib which still includes some handy applications like the K9 e-mail client.
My Archos 7 came loaded with the eBuddy IM client, Aldiko ebook reader, Daily Paper news feed and Deezer radio application, a file browser and the usual Android e-mail, web and media playback apps, as well as bespoke video, music and image playback applications from Archos. More apps are available from the likes of the Android Freeware site but that can be a bit hit and miss. Google Maps wouldn't instal and while Fring did, it couldn't access the speakers. More worryingly, several of the applications I downloaded from the AppsLib refused to instal including the Weather Channel app, which, ironically, is shown working on the box artwork.
The combination of a dated version of Android and a stunted apps store will doubtless raise howls of derision from El Reg readers but not, I suspect, from the 7's target market that Archos, no doubt, presumes wants affordable and simple out-of-the-box functionality, rather than the ability to ape the latest Android smartphones.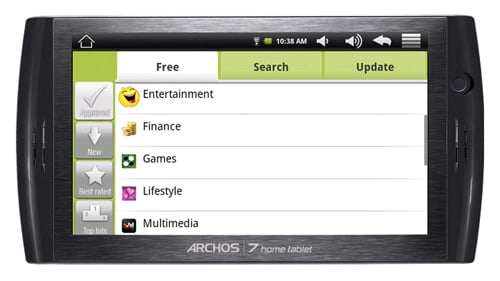 With the Android Market out of bounds, on-board is access to the AppsLib site
Archos clearly sees the 7 Home Tablet as a device more akin to the shortlived O2 Joggler or a cross between a digital photo frame and a connected PMP, rather than a netbook stand-in, so you need to modify your expectations accordingly. Something the Joggler can do is act as a UPnP media streamer. Alas, the 7 doesn't have this capability, which is a little disappointing nor does the 7's web browser support Flash, so no YouTube or iPlayer.
Sponsored: Minds Mastering Machines - Call for papers now open