Archos 7 Android tablet
The poor man's iPad?
Fire up the e-book reader and the screen flicks to portrait but there's no auto or manual rotate option, so even web pages have to be viewed in landscape. Another omission from the 7 is a web cam, but the circular blanking plate on the right side of the device suggests one may be coming in a future version or Archos changed its mind to save a few quid.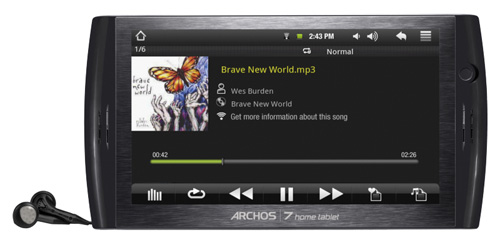 Does the business as a media player
Skype video calling is one of main uses I put my netbook to, so this rules out me ever replacing it with an Archos 7 – until a Skype Android app appears that supports video. With the Archos 7 Home Tablet featuring a built-in microphone and two decent little speakers, it seems this model is certainly equipped, whenever Skype decides to launch a cam-friendly version for Android.
The 7's file support runs far beyond the Android norm extending to DRM-free MP3, WMA, WAV, APE, OGG, FLAC and AAC audio, H.264, Real and MPEG-4 video. To put it another way, it plays most files with an avi, mp4, mkv, mov or flv suffix up to 720p in resolution – along with JPEG, BMP, GIF image files. With no DRM support, iPlayer downloads are out of the question.

Size isn't an issue, neither is the weight
I've always been impressed by the quality of AV playback on Archos devices and the 7HT is no different. Attach a pair of speakers or headphones and you have a cracking portable desktop cinema, though its ability does throw the lack of an HDMI port into sharp relief. Alas, there is no support for subtitles. Content can be synchronised using an MTP media player – as well as drag and drop from either Linux, Mac or Windows machines – however, the only way to set up playlists is from within the device.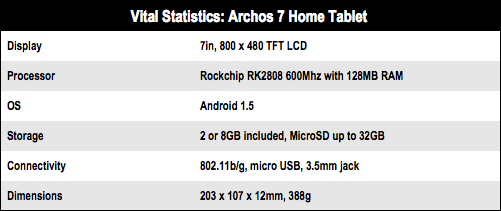 Sponsored: Minds Mastering Machines - Call for papers now open