'Free' laptop deals compared
Are carrier-sold ultra-cheap PCs worth the wad?
Following last week's claims that 'free' laptop deals were still popular with British consumers, we thought we'd dig deep and find out just how much customers are really forking out.
With most networks offering similar dongle-only deals, surely the gulf between bundles couldn't be that excessive, could it?
Based on the best deal I found online for buying the laptop outright, coupled with each network's equivalent dongle-only deal, we compared packages and were surprised to see one provider's offers can actually save you money.
With a saving of up to £89 and a reasonable 3GB of data a month, O2 was by far the fairest in the market. A representative claimed 90 per cent of customers used less than 1GB a month on mobile broadband and hardly anyone exceeded the 3GB limit, although there's a 2.4p per megabyte charge if they do.
O2 charges between £40 and £100 for the laptop up front, but I've included that in the total cost of the computer, dongle and data bundle.
Orange charges £50 for the Compaq laptop, though the Asus is free - as are all the other machines from other vendors.
Orange was the cheapest when it came to extra data at 1.5p/MB, but its total costs were rather high. The figures below are based on 3GB caps, although larger usage deals are available.
Three scraped second in terms of price, although the £11 figure you see below came with just 1GB monthly allowance, which costs a premium 10p/MB once exceeded. In contrast, its R530 deal comes with 15GB of data.
At £15 per past-the-bundle gigabyte, Vodafone technically matches Orange in terms of extra data costs and also comes with a 3GB allowance, but the total spent is so much higher than buying a laptop and data package separately, we'd hope none of you get that far with it.
See for yourself... Bear in mind that the laptops aren't identical, some are notebooks, some netbooks and all spec varies, however the Samsung N150, offered by three providers, is a good indicator of value, confirming O2 as the best bundler, at least in that case. ®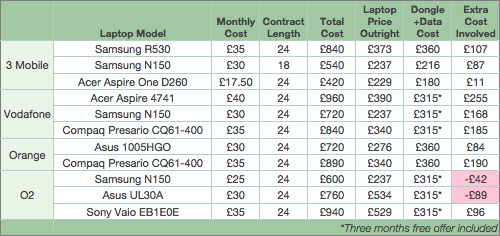 Nb. Total Cost is the amount you pay for the duration of the contract plus any up-front charge for the computer. The Extra Cost is the excess you pay for getting the machine free or cheap. The total is negative if buying through the carrier is cheaper.
Sponsored: Minds Mastering Machines - Call for papers now open