119 iPad apps for admins, coders, and geeks
Tools, training, and tips for sysadmins
Training
You, Reg reader, are of course at the top of your game, plugged into each and every new development, and past the need of training apps. You might, however, be tasked with bringing an intern up to speed — or, if you're honest, you may want to slip away somewhere private and surreptitiously refresh you encyclopaedic knowledge.
An entertaining place to start might be by spending a buck on DBA Q&A (99¢). This app presents a collection of Oracle-centric questions and their corresponding answers — written by an author who apparently has studied English as a second language — designed to mimic what a prospective candidate might be asked in a typical DBA job interview. Sweaty palms optional.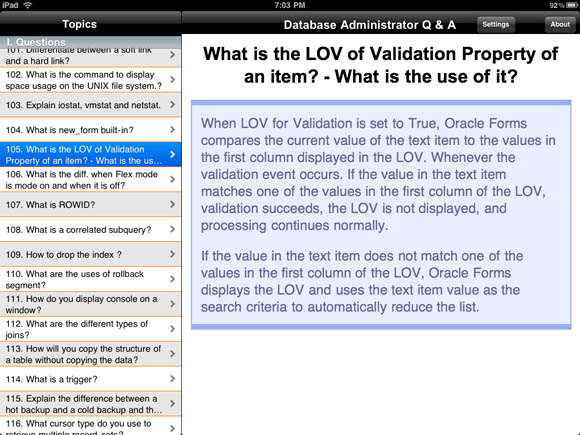 Think you're so smart? Put your 99¢ where your mouth is — if you can decode DBA Q&A's wonky English
The Newcomer's Guide to Linux HD ($3.99) is pretty much what its title indicates. In a series of videos, a Linux noob is led through an overview of the OS, its advantages, and its nooks and crannies. Just remember that when its developer says "Newcomer", they mean it — show this app to that aforementioned intern.
Amazing eLearning LLC takes a equally traditional approach to training with its three-part Windows 7 Video Training series, though its offerings move beyond the basics. Using a combination of videos, screenshots, and interactive quizzes, the series leads you through levels from Basic ($9.99) to Intermediate ($19.99) to Advanced ($29.99).
After all, says Amazing eLearning: "Just because you think you have mastered Windows Vista does not automatically make you a pro at Microsoft's latest operating system." The Windows 7 Video Training series should help you or your troops brush up not only on single-system intelligence, but also network-infrastructure integration — and, as the pricing of the series indicates, the more you know, the higher you're paid, and the higher you're paid, the better you can afford more-expensive training apps.
Reference
Although we are all, of course, well-versed in our individual areas of expertise, even the most deeply steeped PC pro may need help when confronted with, say, an aging, ailing Mirrored Drive Doors Power Mac G4. Hmm, 168-pin or 184-pin DIMMs? Reference apps can help.
If you enjoy mixing the whimsical with the übergeeky, A Computer Dictionary (99¢) might entertain you. In addition to computer and telco terms, hex-to-ASCI conversion, and file-extension definitions, the Dictionary also includes a full list of emoticons and chat/IM abbreviations — a searchable total, the developers claim, of "over 10,000" items. Navigation is wonky, but the wealth of file types alone makes it well worth a dollar.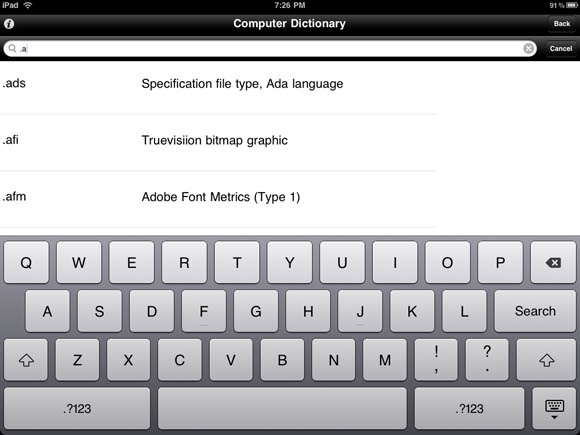 With A Computer Dictionary, you'll put up with some UI pain to get the info you need, but the info is worth the hassle
Dare we say that most error codes remain opaque to all but the most experienced admins? Well, in our experience, that is indeed the case — especially on foreign platforms. Code Sleuth PC (99¢) lets you look up system error and device manager codes for Windows XP and Vista, and Code Sleuth Mac (99¢) does the same for Mac system error codes.
Unfortunately, both versions are a bit lame in that they give you only minimal info on each error code, then prompt you to Google for the rest — as if you couldn't do that anyway without the apps. Still, even a hint is sometimes better than nothing, and is quicker than Googling if you're on a congested (read: AT&T) 3G network.
Info-Tech Mobile (free, three stars) is a window into the Info-Tech Research Group's wealth of research, advice, and tools, including information on apps and infrastructure, and, as Info-Tech puts it, "IT strategy & governance".
Finally, here's the app you can use to find out what DIMMs to bring along when you when you perform a service call on that Mirrored Drive Doors Power Mac G4 we mentioned above: The Non-PC World - A Field Guide ($1.99, three stars) contains info on all Mac models, plus Apple retail store addresses, Mac OS X keyboard shortcuts, and a glossary. Quick: what's the difference between Rendezvous and Bonjour?
Fine Dining
There's not an admin in the western world who hasn't called out for pizza when laboring though a past-closing-time assignment. We've got two iPad apps to help.
The less-than-concisely named Call a Pizza - Two Clicks Away From Eating Hot Pizza Anywhere, Anytime! ($1.99, two-and-a-half stars) is available for both the iPhone and the iPad, but the iPhone version has the distinct advantage of its one-click "call to order" capabilities.
Still, CaP-TCAFEHPA provides a great location-based pizza-parlor search, a Google Maps link with directions, and the ability to read or write reviews. Unfortunately, the number of reviews currently available is vanishingly small — if non-existent. We gave up our search for even a single review after trying a dozen restaurants.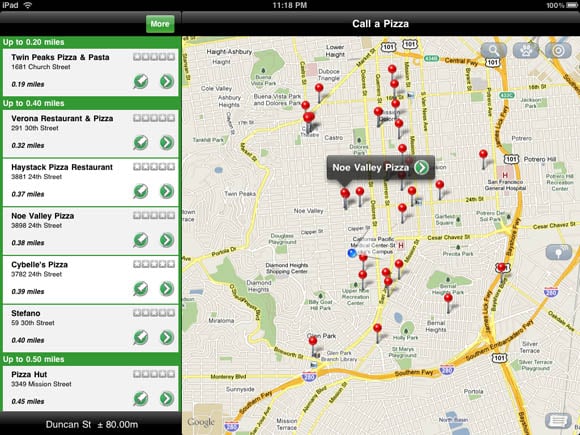 Call a Pizza's More button lets you choose to display a varying number of parlors in your locale
The developer of Order Pizza for iPad (free, two stars), claims that his app won the prestigious title of "Best developer and pizza apps at the 2010 International Pizza Expo". The Reg was unable to confirm his assertion, but we can see why it might: the app lets you define your pizza on the iPad (from a limited set of options) and place your order online — not merely call it in, as does CaP-TCAFEHPA. But whether or not your pizza will actually arrive, of course, depends upon whether or not the restaurant is willing to play along.
We've tested neither pizza-provisioning app to the point of actually ordering a pie, but both made us hungry — so we're going to make a phone call and order up a linguiça, anchovy, jalepeño, and black olive thin-crust from our local fave, Mozzarella di Bufala, and call it a day for this first installment of 119 iPad apps for admins, coders, and geeks.
Next time we'll cover three dozen more apps in a collection aimed at coders — from C++ to PHP to Java to Python. Bonus: the geekiest iPad desktop clock you've ever seen. Or, for that matter, ever imagined. ®