119 iPad apps for admins, coders, and geeks
Tools, training, and tips for sysadmins
Network
You may already be aware of the enterprise-level snort and syslog intrusion-detection app Aanval, but you may not know that there's an Aanval ($9.99, five stars) client for both the iPad and iPhone, as well. Before you bag a copy, though, know that the mobile version requires an installation of the Aanval Intrusion Detection and Correlation Console to, as the developer says, "properly function".
DHCP Options (99¢) is a handy reference tool "for anyone administering, configuring or troubleshooting DHCP services on a network." Sort the references in a variety of ways, and choose IANA, ISC DHCP, or Microsoft representations.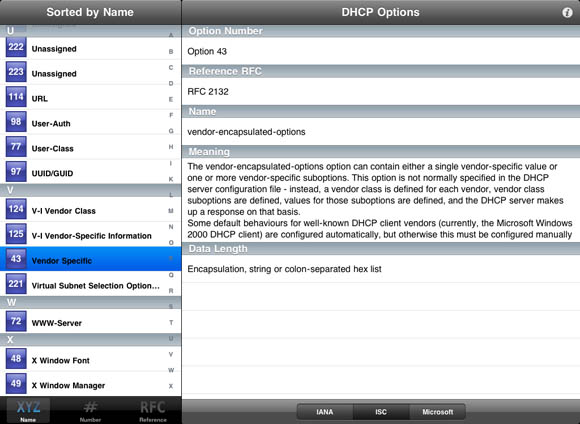 You may not remember all your DHCP options, but DHCP Options does
If you're testing and designing UDP applications, the developer of UDP Tools ($7.99) calls his app a "simple yet powerful way of sending and receiving UDP data messages. And speaking of UDP, Syslogger (99¢) lets you send log messages using the UDP syslog protocol to remote syslog servers. Check out RFC 3164 for more info.
If not merely a one-trick pony, NetTools ($3.99, three stars) is, well, a three-trick pony: DNS lookup (NsLookup), ping, and traceroute. Connection types include Wi-Fi, 3G and EDGE — the latter two, of course, only if you use the pricier Wi-Fi + 3G iPad.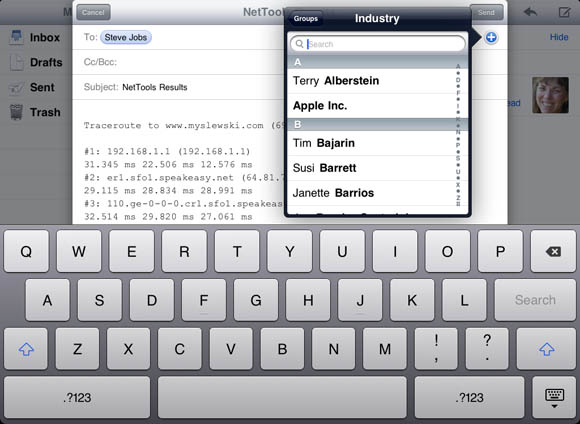 NetTools lets you email your traceroute results to your favorite CEO of the Decade
SSH Terminal (99¢, two stars) is, as might be guessed, an SSH client, and one that allows you to connect to multiple servers and save their login info. A history list of recently used commands adds to its convenience. While we're on the SSHubject, Turbosh ($9.99, three stars) is an SSH project manager. With it, you can launch tasks, view and edit files, work on those files offline, then sync 'em back to the server when you next log on.
The developer of SubNet Star ($1.99, five stars) claims: "It's the first and only subnet calculator for the iPad!" That's their exclamation mark — and whether or not you decide that level of exuberance is warranted may depend on how much you need to calculate a variety of subnet-related functions. As with many of these admin tools, you can email your results.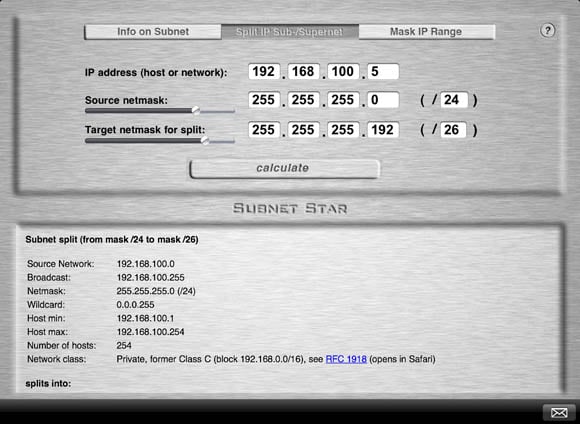 SubNet Star's developer is proud of his app's "appealing aluminum design"
Straightforward Linux server monitoring is the raison d'être of QNotifier Linux Server Monitoring (99¢, two and a half stars). Install a "simple agent" on your Linux-based servers, and they'll push up-to-date notifications to this app reporting on performance, status, and problems.
Essentially a collection of router-config info from PcWinTech.com, Router Helper (free, two and a half stars) contains info on a goodly amount of common routers, plus the ability to identify connection type and IP addresses.
Sponsored: Minds Mastering Machines - Call for papers now open