Scott Pilgrim Vs. The World
An epic for the tech-headed?
Some films just beg for us to write about: step forward Scott Pilgrim Vs. The World.
Written, directed and produced by Edgar Wright, Scott Pilgrim Vs. The World has been sending critics wild, with many suggesting it tops Wright's previous films, Shaun of the Dead and Hot Fuzz. No mean feat.
Based on Bryan Lee O'Malley's cult graphic novels, the movie stars Michael Cera as bassist Scott Pilgrim, a slacker who appears to have everything except the woman of his dreams. To get the girl, Ramona Flowers, played by Mary Elizabeth Winstead, Scott must defeat seven of her evil ex-boyfriends in battle.
Can't see the video? Download Flash Player from Adobe.com
Drawing on elements of computer game culture, the film pushes all the right buttons. With tons of geeky hardware references, enemies turning into coins when killed and The Legend of Zelda music often heard in the background, Scott Piglrim Vs. The World will score many points among gamers with long memories. To get into the role more, Cera even claimed to play Nintendo every night after work – he's not the only one.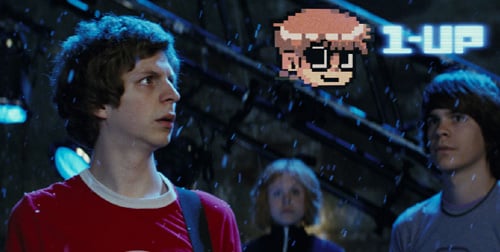 Said to follow the original story closely, a fact that will sit well with die-hard fans of the comic, Scott Pilgrim Vs. The World is released Stateside tomorrow. Those of us in the UK will have to wait until 25th August. ®