'Free' laptops - a popular temptation
Mobile broadband at a price
'Free' laptop deals are still popular with British consumers, despite heavy criticism and claims that new mobile broadband sales are slumping.
ISP comparison site Broadband Genie says half of mobile broadband sales made through its site involve laptop offers, even though dongle-only and pay-as-you-go deals are significantly cheaper. Offers where the laptop is reduced in price, rather than being completely 'free' are also popular.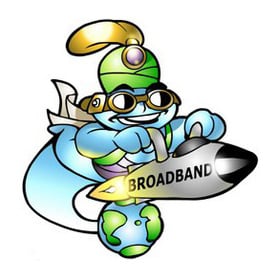 With charges factored into the monthly fee, laptops are more hire purchase than free, But with little or no interest, they're a tempting proposition for many. Large percentages fail to read the small print though, getting stung with huge bills when they bust data limits.
Chris Marling, editor of Broadband Genie, said: "In hard economic times, when savings have dried up, it's nice to know you can get a great laptop, and get online, as soon as you sign the deal - often with no financial outlay."
I'd say...it's not nice to know, in these hard economic times, that people can plunge themselves further into debt by entering into 'free' laptop deals. Just saying.®