iMovie for iPhone 4
Video editing on the Judas phone
Once the project opens, you add videos and photos from your iPhone's camera roll, or you can switch to camera mode to record video directly into the project. Each clip appears as frame thumbnails in a single-row timeline under the movie preview area. At this point, I find it easier to work in landscape mode by turning the handset by 90 degrees, but you can keep working in portrait mode if preferred.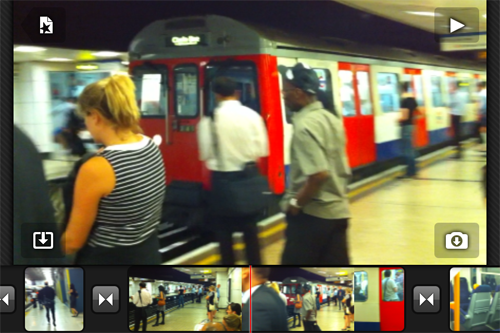 Drag clips around the timeline to put them in order
Re-arranging video clips in the timeline is a simple drag-and-drop action. To remove a clip, drag it away from the timeline altogether and it vanishes in a puff of smoke. You drag the timeline left and right to scrub and set the play point, and you can play back a full movie preview instantly at any time.
When you tap on a clip in the timeline, trim pins appear at either end of the clip, letting you drag inwards to crop out as much as you like from the beginning and end. Given the small size of the clip thumbnails and the even tinier pins, trimming a clip with my fat fingers is imprecise to say the least, bordering on the haphazard.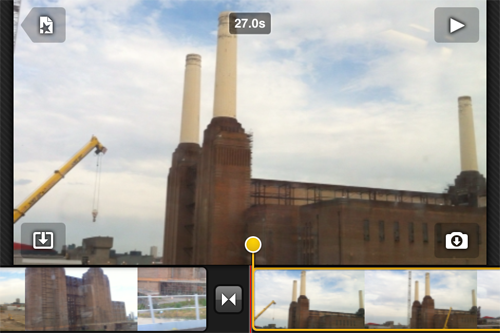 Trimming clips is a bit fiddly and imprecise but it does the job
A more troublesome challenge is that there is no indication of how much time you have trimmed, or even that you have trimmed the clip at all. So if you want to adjust the trim to bring some frames back by dragging on the trim pins again, you have no idea whether there's a minute, a few seconds or nothing at all available for retrieving. It is not possible to split a clip, but you can add the same clip to the timeline as often as you like, then trim each instance as necessary.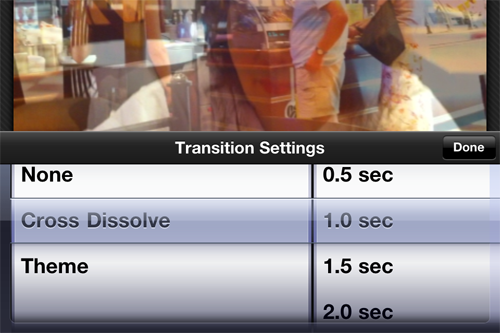 There are only two clip transition effects – three if you count 'None'
Photo images use the trim pins slightly differently. After adding a photo, you have to drag on the pins to extend its duration – the default is just one second. You can then set a custom zoom and crop – by pinching and dragging the preview – for the opening pin and another for the closing pin, thus producing a rostrum zoom and pan, or what Apple still keeps calling a 'Ken Burns effect'. Ken Morse would be more appropriate on this side of the pond. Do you have to be called Ken to be good at rostrum techniques?