A transition icon appears between every clip in the timeline. A double-tap calls up an options panel in which you can apply a cross dissolve or the current theme's (invariably ghastly) transition effect, lasting between half a second and two full seconds. If you don't like the theme's preset transition effect, you can switch theme by scrubbing all the way to the beginning of the timeline and tapping on the Preferences button.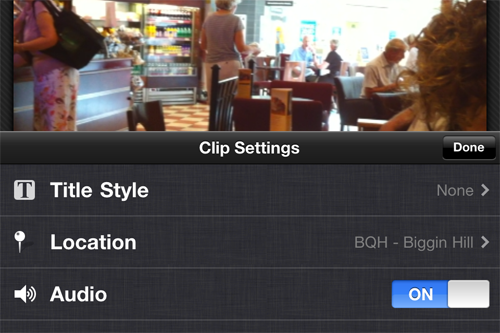 Each clip can have a small amount of customisation
The theme can also play background music over any clip or photo: you choose on a clip-by-clip basis, and the music seems to fade in and out with acceptable grace. You can pick your own background music from tunes on your iPhone handset. You cannot, however, trim the track or choose which clip it begins at, nor adjust the volume.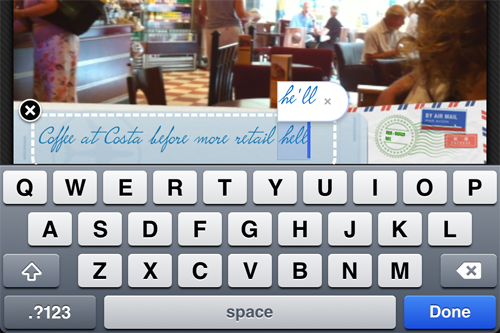 Add onscreen text to a clip using the predesigned titles from your current theme
Double-tapping on a clip allows you to add titles, and their design is based on presets according to your theme. Once a title style is added, you can type the text you want directly from the iPhone's visual keyboard. Now there's a problem here. What if you want the transition effects of one theme, the titling designs from another theme? Answer: you can't. The only part of a theme that can be used independently with any other is the background music.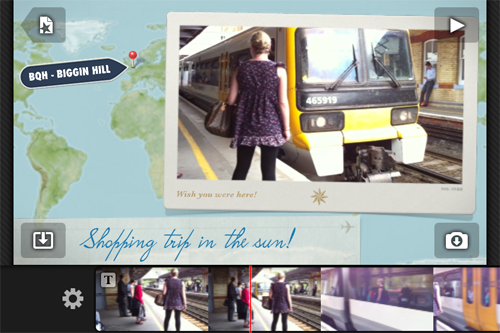 The animated opening title for each theme can show the location of your clip, although I wasn't in Biggin Hill
When your project is ready, iMovie lets you export it to one of three preset size options: Medium (640x360), Large (960x540) or HD (1280x720). This can take several minutes, depending upon the length of your movie, but I was very impressed with the quality afterwards. The final movies can be quite big, though: a two-and-a-half minute epic can occupy in excess of 70MB when exported using the Large option, or 200MB+ as HD.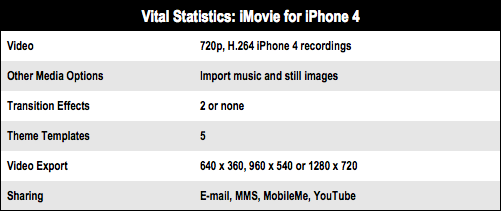 COMMENTS
Sigh
Can we drop the Judas/Jesus phone gag, please? It was funny once.
I lolled
"Yes, boo-hoo for those 3GS owners out there: your phone is not powerful enough. Annoyed? After the piss-taking I have had to endure from all and sundry over my signal-fade, I really couldn't give a monkey's."
I lolled. Now excuse me while I take this call.
I suspect that El Reg and the rest of us will give it a rest when......
........Apple cut out the "born again" "happy clappy" marketing that most of the rest of us find crucifyingly embarassing and in fact gave rise to the appellation "jesusphone" and when they admit that they did not get it quiiiiiiiiiiiiite right with Judasphone 4. In other words when Apple stop bloody well begging for it we might consider stopping it .
Indeed
"Judas/Jesus phone" is so annoying and tired now, and I wish El Reg would give it a rest.
And Dogged, why are you so mean?
Ha! The most interesting thing about this article is..
That you share the same b*stard commute as me...