Bound robbery victim IMs for help with toes
CALL 911 POLICE. IM HOME TIED TO BEED
An Atlanta woman who was tied to her bed by an armed robber managed to alert her boyfriend by instant messenger - no mean feat since she was obliged to type with her toes.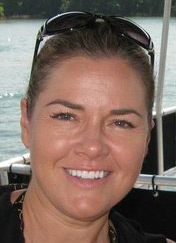 According to the Atlanta Journal-Constitution, 39-year-old Amy Windom (pictured) was in bed around midnight on Tuesday when the intruder burst into her bedroom. She told the paper: "We struggled for some amount of time. He hit me on the head with the gun."
The robber tied Windom's wrists to the bed posts and then spent almost an hour searching for booty. Once he left, Windom shouted for help and tried to free herself, without result.
She said: "But the way he had tied my wrists with shoe strings, it was tightening around my wrists, cutting off my circulation and cutting into my skin. He tied me really well and I wasn't able to get myself free."
After further struggling and yelling, Windom realised at around 4.15am that the assailant had "left my laptop at the foot of my bed".
She continued: "I flipped my legs over my head and turned off my alarm clock so my radio wouldn't be blaring and block me from hearing anybody walking by that might be able to help me, and I was like, 'wow, I guess I can do more than I thought with my feet,' so I dragged my laptop over with my feet and I pried it open."
After unsurprisingly "struggling" to simultaneously hit control, alt and delete to unlock the PC, Windom enjoyed a "wonderful moment" when she realised her Wi-Fi connection was live.
She explained: "I was worried that the guy had cut my phone line, so I was worried that I wouldn't have an internet connection."
Using one big toe as a mouse, and the end of the power cord gripped between toes on her other foot as an improvised typing tool - "because my big toe was too big to hit individual keys" - she managed to get boyfriend John Hilton on IM, and he called cops just before 5.30am.
He told the Atlanta Journal-Constitution: "I email her every morning before I go to work. I saw her on AIM, and she 'pinged' me first and her first word was, 'HELP. CALL 911.'"
Hilton added that his quick-thinking girlfriend held onto her computer because although the intruder was "was interested in her laptop ... she said there was a way to trace it so he shouldn't take that".
He noted: "She's got her wits about her all the time."
The Atlanta Journal-Constitution has more, including a screenshot of part of the IM conversation, right here. ®
Bootnote
Thanks to Simon Bache for the tip-off.
Sponsored: Minds Mastering Machines - Call for papers now open