Elon Musk plans new Mars rockets bigger than Saturn Vs
Claims endorsement from the Dead Sea Scrolls. No, really
SpaceX, the rocket company founded and bankrolled by famous PayPal nerdwealth icon Elon Musk, has revealed radical plans for a colossal launcher as big as the Saturn Vs which sent men to the Moon - and has also proposed nuclear-powered spaceships to carry astronauts to Mars.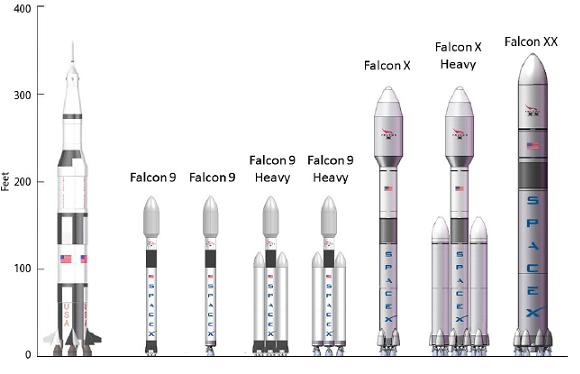 The future of heavy lift?
The plans were discussed by SpaceX honcho Tom Markusic at a conference in America last week, but thus far the company hasn't publicised its ideas widely. At the moment, the only rockets SpaceX offers are its Falcon 1 and Falcon 9 designs.
Falcon 9, which has so far made a single (successful) trial launch, is capable of lifting as much as 10 tonnes into orbit. A planned "Falcon 9 Heavy" might manage better than 30 tonnes.
This is impressive stuff for a company which was set up just eight years ago and which uses all-new, proprietary designs. However, it's not in the league required for ambitious goals such as a manned mission to Mars.
The Apollo missions, travelling only to the relatively nearby Moon, required the use of colossal (and extremely expensive) Saturn V launch stacks able to lob 118 tonnes into Earth orbit. The Constellation programme planned under the Bush administration, intended to first return to the Moon and then travel on to Mars, was supposed to produce a replacement Ares V heavy lifter - though it would have been based on old technology from Apollo and the Shuttle.
But Congress never agreed to supply the funds required for Constellation, and President Obama has largely axed it. He has also cancelled plans for a manned Moon return, though boots on Mars remains a stated US aspiration. The president has said that a new, unspecified heavy lifter will be selected in 2015 for use by American astronauts as they head out first to nearby asteroids and then onward to the red planet.
In April, Obama said:
In developing this new vehicle, we will not only look at revising or modifying older models; we want to look at new designs, new materials, new technologies.
At the time, there were no known hundred-tonne-plus designs based on new technology, though we on the Reg rocket desk did note that Obama had lately been spending time chatting to Elon Musk.
It now seems possible that Musk had given the president a sneak preview of the plans now being discussed by SpaceX among its fellow aerospace folk. These plans can be seen in outline in two PowerPoint presentations given last week by SpaceX's Markusic, downloadable here and here courtesy of the Commercial Space Wiki.
Sponsored: Minds Mastering Machines - Call for papers now open