Beefy 2010 chip forecast get steroids blast
iSuppli of the tiger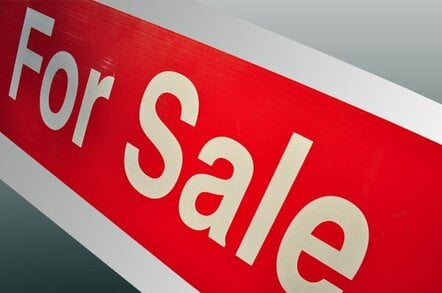 Chip market researcher iSuppli says in its latest forecast for 2010 that semiconductor sales are "already pumped up by bulging demand" but that this year it has "been injected with a powerful dose of growth steroids." And thus, iSuppli is raising its chip revenue forecast for the year.
iSuppli was a bit more negative back in March, when it called 2010 a "false spring" and projected that semiconductor sales this year would rise by 21.5 per cent to $279.7bn, only 2.7 per cent higher than the peak semi sales levels set in 2007, when chip makers raked in $273.4bn in revenues.
By May, iSuppli was beginning to see it had been a bit too harsh, and projected 30.9 per cent growth this year. And now, rather than being a total bummer and reminding everyone that these high growth numbers are compared to perfectly awful numbers in 2008 and 2009, iSuppli is now talking about a different kind of 'roids than chip makers experienced over the past two years — they now project chip sales growth to be 35.1 per cent, pushing revenues up to $310.3bn.
"The semiconductor market already was in for beefy growth in 2010 because of strong consumer demand for electronic products," explained Dale Ford, senior vice president at iSuppli, in a statement accompanying the forecasts. "However, it's now apparent that semiconductor sales are getting an infusion of growth hormone in 2010 because of a number of factors, including rising prices, inventory buildups and richer chip content in key electronic products like smart phones and advanced LCD-TVs. All this is causing chip revenue to bulge to awesome dimensions this year."
It is the silly season, so I suppose you can forgive iSuppli for its exuberance. Oh, and that's a much funnier statement if you can have California governor Arnold Schwarzenegger read it in your mind's ear.
iSuppli said that three things are at work driving up semiconductor sales. The first is a bigger-than-expected demand for computers and electronics, which iSupply now pegs at growing by 9.3 per cent to $1.54 trillion this year. That's for factory OEM sales of stuff, and it is an extra $131bn compared to the May forecast. Significantly, it is just over the peak in OEM electronic equipment sales, which was the $1.53 trillion level set in 2008.
The second thing driving semi revenues is constrained supply, which can't meet demand. (Oh, like that was totally an accident on the part of chip makers.) Given the uncertain state of the global economy, you can't blame chip makers for being conservative. And their bottom lines will benefit from it now.
The third driver for chip revenues is that more things are getting more chips, and increasingly complex and costly ones that consumers and companies are willing to pay for.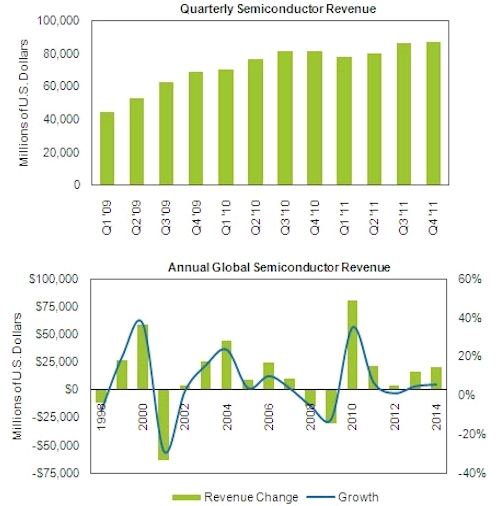 iSuppli chip revenue and growth forecasts
Ford said in the statement that lots of people in the IT sector are now worried about a double dip, that the sales bump in 2010 is unsustainable like the dot-com bubble from 1999 and 2000, which popped in 2001. iSuppli says the current demand is sustainable, but is forecasting 7 per cent growth in global chip sales for 2011.
As 2010 goes on, growth will slow, decelerating from 8.2 per cent in the second quarter, to 6.7 per cent in the third quarter, to four-tenths of a per cent in the final quarter. The market researcher then expects a seasonal downturn in the first quarter of 2011, as the chip market normally experiences. That will be seven straight quarters of growth — which is good, but nowhere near as great as the bull run from 1991 through 1995, which encompassed 19 straight quarters of chip-revenue growth. ®
Sponsored: Minds Mastering Machines - Call for papers now open