PDF+ Basic
Symbian comes with a PDF reader, of course, but it's fair to say it isn't much cop for those who deal with incoming PDF attachments every day. Costing just £3, PDF+ Basic expands on Symbian's built-in options, offering document reformatting to get your documents to fit on-screen, as well as touchscreen support. Of course, there's the ability to search within documents and add bookmarks. It's not perfect, though - while some Symbian apps run beautifully quickly, PDF+ Basic isn't one of them, and if you're attempting to view a large PDF, prepare yourself for some frustrating delays between choosing to zoom in and it actually happening. If you work with PDFs every day, PDF+ Basic adds some excellent new features.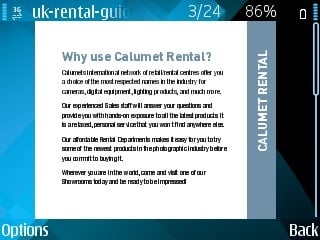 Reg Rating
70%

Price
£3 

Download
Ovi
More Info
mBrain Software

Qik
Recording a video, editing it and uploading it hours - or even days - later is a relic of the last decade. Live streaming is where it's at, and it's hard to name a candidate that does a smoother job than Qik. Set up the free app and an account to go with it and you'll be broadcasting in seconds. Unless you create a private channel your videos are streamed to the internet - the only thing left to do is think of something interesting to film. Predictably, streaming video over a 3G connection was ropey at best, with the connection dropping out frequently. If this happens, your video is cached locally and uploaded when your connection recovers. Streaming by Wi-Fi worked superbly, though, with an impressively short delay of around a second and a half between filming something and it arriving online. Your videos are automatically saved by Qik as well so you can watch them later.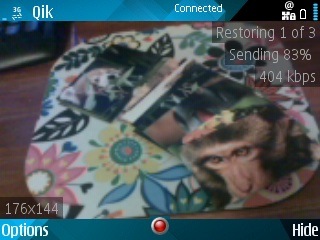 COMMENTS
:rolleyes:
Yes, the fact that iPlayer only works in the UK is DEFINATELY Symbian/Nokia's fault.
As an E71 Owner
I have to say that this just demonstrates the paucity of what is available, compared to the iPhone or even a gPhone.
Admittedly, the OVI Store is an improvement on what went before, but...
/ Green-eyed monster of jealously icon!
Some more apps - Nokia 5800
Skyfire is the best browser - it supports normal web pages really well.
s60SpotOn is a great app for keeping the screen on all the time.
Offscreen's Stick Notes is great for phones with a stylus - write Post-it notes and stick them to a virtual cork-board.
ShoppingList is a good, er, shopping list app.
Widgetizer is a great app for adding extra shortcuts to the HS, plus HS buttons for flashlight and bluetooth, and HTC style clock and a (basic) music player control. Still in beta but best app I've got on my phone.
Exclusion - great game to play with stylus.
Ayofe by Dsma theme is ultra-stylish theme - like what a 60s sci-fi movie thinks our phones would be like now. What phone interface would look like if people cared about "interesting" rather than "efficient". All default icons stylised so they no longer look like what they're icons for and many third party apps also have new icons, plus new skin for music player and for keyboard.
I also think Symbian is dying out, and think Android will take over. Android = MS Windows, iPhone OS = MacOS and Symbian = AmigaOS. Shame, 'cause I love my 5800 with s60v5.
And Ovi sucks - so dull and devoid of useful apps.
but which symbian version
the incompatibility between all the symbian versions don't help
and where is a decent e-reader?
i can't wait to dump symbian
the apps should be free
And another vote...
ProfiMail is the best IMAP client I've ever used. The ability to query the server and pull down an email from a store of 45,000, within 20-30 seconds, was quite impressive. And the built-in web browser is so well written I used to send myself the bookmarks every day. ProfiMail is not exclusive to Symbian (it's also WM) but moving away was painful.
"Nice to see symbian getting some love on El Reg.......it's been a long time :p"
It's been a long time since Symbian showed its users any love. 2007?