Maps Booster
You can't argue with the benefits of location-aware applications and map apps on mobile phones, but GPS has its drawbacks: it's slow to get a location, next to useless indoors and in crowded cities, and the kiss of death for an almost-flat battery. Maps Booster aims to speed up getting a location fix by tying together GPS data, cell-tower data and a database of over 100 million Wi-Fi networks to tell you where you are, fast. Coverage is restricted to the less adventurous, with Western Europe and the US enjoying the most data, but impressively, Maps Booster really works. It cuts down the amount of time you're waiting around for a fix, and is a relative no-brainer for anyone frustrated by their phone's maps performance at just a quid.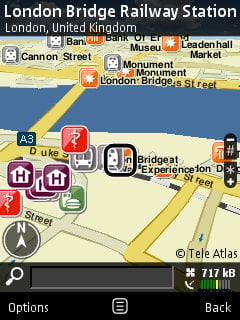 Reg Rating
80%

Price
£1
Download
Ovi
More Info
Skyhook Wireless

Opera Mini
You don't have to use it for long to realise that Symbian's default browser is a pretty dull piece of software, even for a web browser. Opera's choice is much more fully-featured: tabbed browsing and a handy dashboard with your favourite sites ready to go at startup are both useful new features. It's also a tad faster on image-heavy sites: Opera pre-compresses images at its end before sending them over the internet, making downloads faster on slow cellular connections. By default it attempts to load the desktop, rather than mobile, version of sites, which is useful if you want a page as its designer intended, and you can opt for the mobile version if it's faster, though. Other niceties, such as offering to remember your passwords, are also handy. There aren't many drawbacks – its initial loading time is on the long side, but you can always run it in the background until you need it.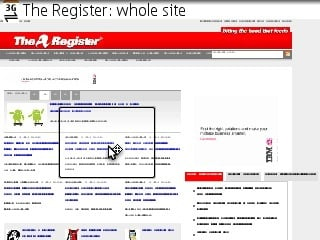 COMMENTS
:rolleyes:
Yes, the fact that iPlayer only works in the UK is DEFINATELY Symbian/Nokia's fault.
As an E71 Owner
I have to say that this just demonstrates the paucity of what is available, compared to the iPhone or even a gPhone.
Admittedly, the OVI Store is an improvement on what went before, but...
/ Green-eyed monster of jealously icon!
Some more apps - Nokia 5800
Skyfire is the best browser - it supports normal web pages really well.
s60SpotOn is a great app for keeping the screen on all the time.
Offscreen's Stick Notes is great for phones with a stylus - write Post-it notes and stick them to a virtual cork-board.
ShoppingList is a good, er, shopping list app.
Widgetizer is a great app for adding extra shortcuts to the HS, plus HS buttons for flashlight and bluetooth, and HTC style clock and a (basic) music player control. Still in beta but best app I've got on my phone.
Exclusion - great game to play with stylus.
Ayofe by Dsma theme is ultra-stylish theme - like what a 60s sci-fi movie thinks our phones would be like now. What phone interface would look like if people cared about "interesting" rather than "efficient". All default icons stylised so they no longer look like what they're icons for and many third party apps also have new icons, plus new skin for music player and for keyboard.
I also think Symbian is dying out, and think Android will take over. Android = MS Windows, iPhone OS = MacOS and Symbian = AmigaOS. Shame, 'cause I love my 5800 with s60v5.
And Ovi sucks - so dull and devoid of useful apps.
but which symbian version
the incompatibility between all the symbian versions don't help
and where is a decent e-reader?
i can't wait to dump symbian
the apps should be free
And another vote...
ProfiMail is the best IMAP client I've ever used. The ability to query the server and pull down an email from a store of 45,000, within 20-30 seconds, was quite impressive. And the built-in web browser is so well written I used to send myself the bookmarks every day. ProfiMail is not exclusive to Symbian (it's also WM) but moving away was painful.
"Nice to see symbian getting some love on El Reg.......it's been a long time :p"
It's been a long time since Symbian showed its users any love. 2007?