eBuddy Mobile Messenger


We at Reg Hardware would argue that text messaging covers virtually all the bases when it comes to getting in touch with people, but instant messaging is the way to go when it comes to chatting with people in other countries. eBuddy does a simple trick, but does it well, tying multiple IM accounts into one slick interface. It supports the big three: MSN, Yahoo and AIM, as well as Facebook, Google Talk and ICQ - remember that? Adding a new account and downloading your contact list is quick - it certainly makes Skype's application feel clunky by comparison. There are only a few drawbacks: you can't send or receive files, and eBuddy doesn't recognise your phone's camera for any purpose other than changing your profile image. It would also be ideal if it supported Skype, allowing you to resort to Skype's own application for calling rather than instant messaging. As it is, as a way to quickly get in touch with your IM contacts, eBuddy comes well recommended.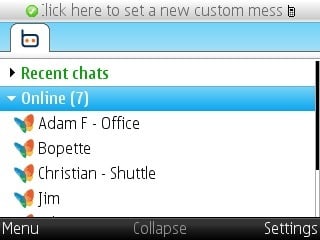 JoikuSpot Light
If you have one of those new-fangled iPads, you'll be acutely aware that the 3G version is rather expensive. Alternatively, if you've ever tried and failed to locate the data cable for your phone to share its 3G connection with your laptop, you'll be tempted by JoikuSpot, which turns your phone into a MiFi-style device, minus the 40-quid up front charge and accompanying bill. The free version is rather pared-back: you can't set a passcode or choose the name of your network. That's fine if you're not within range of anyone with a laptop also looking for an internet connection, but less than ideal if you want to hop online in a busy cafe. The full version costs just £8, though, and allows various handy tricks besides security: VPN tunnelling, IMAP and POP3 connections are all missing from the free version. Setting your phone up as a hotspot is easy - just choose the data connection you want to use and it starts automatically. There were no problems connecting a MacBook to the web, and this neat little app could be a godsend the next time you find yourself wanting proper desktop browsing when you're outside the range of a wireless connection.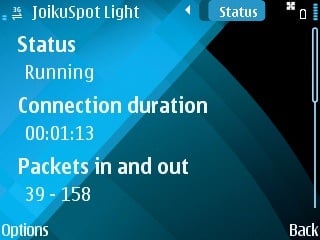 COMMENTS
:rolleyes:
Yes, the fact that iPlayer only works in the UK is DEFINATELY Symbian/Nokia's fault.
As an E71 Owner
I have to say that this just demonstrates the paucity of what is available, compared to the iPhone or even a gPhone.
Admittedly, the OVI Store is an improvement on what went before, but...
/ Green-eyed monster of jealously icon!
Some more apps - Nokia 5800
Skyfire is the best browser - it supports normal web pages really well.
s60SpotOn is a great app for keeping the screen on all the time.
Offscreen's Stick Notes is great for phones with a stylus - write Post-it notes and stick them to a virtual cork-board.
ShoppingList is a good, er, shopping list app.
Widgetizer is a great app for adding extra shortcuts to the HS, plus HS buttons for flashlight and bluetooth, and HTC style clock and a (basic) music player control. Still in beta but best app I've got on my phone.
Exclusion - great game to play with stylus.
Ayofe by Dsma theme is ultra-stylish theme - like what a 60s sci-fi movie thinks our phones would be like now. What phone interface would look like if people cared about "interesting" rather than "efficient". All default icons stylised so they no longer look like what they're icons for and many third party apps also have new icons, plus new skin for music player and for keyboard.
I also think Symbian is dying out, and think Android will take over. Android = MS Windows, iPhone OS = MacOS and Symbian = AmigaOS. Shame, 'cause I love my 5800 with s60v5.
And Ovi sucks - so dull and devoid of useful apps.
but which symbian version
the incompatibility between all the symbian versions don't help
and where is a decent e-reader?
i can't wait to dump symbian
the apps should be free
And another vote...
ProfiMail is the best IMAP client I've ever used. The ability to query the server and pull down an email from a store of 45,000, within 20-30 seconds, was quite impressive. And the built-in web browser is so well written I used to send myself the bookmarks every day. ProfiMail is not exclusive to Symbian (it's also WM) but moving away was painful.
"Nice to see symbian getting some love on El Reg.......it's been a long time :p"
It's been a long time since Symbian showed its users any love. 2007?