Ten Essential... Symbian Apps
Software for your Nokia
Product Round-up Nokia may have come a little late to the app store party, but it's Ovi Store now has plenty of software to choose from, whether you're looking for games or utilities, productivity, comms or entertainment apps.
Not sure where to start? Well, you can start by downloading the following ten apps that will help you get the most from your handset.

Battery Extender Pro
By the time you've taken your phone off its charger at seven in the morning, left it polling your email server all day and checked Facebook during your commute, it's a minor miracle if it lasts all the way back to the charger at night. Battery Extender Pro actually works, piling all of the factors that might affect battery life into one handy screen, then allowing you to change how quickly your phone's features are turned off depending on how full your battery is. For instance, if your battery is running down, you can limit the brightness of the screen, or decrease how long the GPS chip is left running. The same goes for Bluetooth, and you can even choose specific applications to shut down. The app comes with a number of profiles. Max Battery is the most aggressive, but rendered my phone's screen sadly illegible thanks to the backlight turned down as far as possible. Improved Battery gives a good blend of performance and power-saving, though, and you can customise the settings to your liking. This flexibility - which allows you to find your own balance - is Battery Extender's best feature.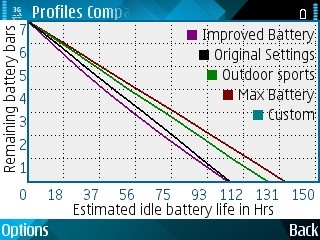 BBC iPlayer
You can't help but love BBC iPlayer. All that lovely Beeb content, all free, and all the time. But if like most people you've got a commute, you'll want to be able to watch the first half of Top Gear - or, indeed, something good - over breakfast, before finishing it off on the train. A tiny app - under 1MB - iPlayer is a small but well-formed piece of software, giving you access to all of iPlayer's content, and even adding the option to watch TV channel live over a data connection. Video quality varies depending on the speed of your connection, which is handy, and even over a 3G connection things are reasonably smooth, albeit with frequent "Buffering…" messages. If you'd rather watch high-quality video – or don't have a data connection on your commute – there's a download option. I'm shocked to report getting DRM permission works flawlessly, and you get video optimised for mobile a one-hour programme should occupy no more than about 100MB – perfect for downloading over your home network and watching later.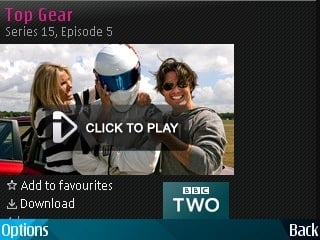 COMMENTS
:rolleyes:
Yes, the fact that iPlayer only works in the UK is DEFINATELY Symbian/Nokia's fault.
As an E71 Owner
I have to say that this just demonstrates the paucity of what is available, compared to the iPhone or even a gPhone.
Admittedly, the OVI Store is an improvement on what went before, but...
/ Green-eyed monster of jealously icon!
Some more apps - Nokia 5800
Skyfire is the best browser - it supports normal web pages really well.
s60SpotOn is a great app for keeping the screen on all the time.
Offscreen's Stick Notes is great for phones with a stylus - write Post-it notes and stick them to a virtual cork-board.
ShoppingList is a good, er, shopping list app.
Widgetizer is a great app for adding extra shortcuts to the HS, plus HS buttons for flashlight and bluetooth, and HTC style clock and a (basic) music player control. Still in beta but best app I've got on my phone.
Exclusion - great game to play with stylus.
Ayofe by Dsma theme is ultra-stylish theme - like what a 60s sci-fi movie thinks our phones would be like now. What phone interface would look like if people cared about "interesting" rather than "efficient". All default icons stylised so they no longer look like what they're icons for and many third party apps also have new icons, plus new skin for music player and for keyboard.
I also think Symbian is dying out, and think Android will take over. Android = MS Windows, iPhone OS = MacOS and Symbian = AmigaOS. Shame, 'cause I love my 5800 with s60v5.
And Ovi sucks - so dull and devoid of useful apps.
but which symbian version
the incompatibility between all the symbian versions don't help
and where is a decent e-reader?
i can't wait to dump symbian
the apps should be free
And another vote...
ProfiMail is the best IMAP client I've ever used. The ability to query the server and pull down an email from a store of 45,000, within 20-30 seconds, was quite impressive. And the built-in web browser is so well written I used to send myself the bookmarks every day. ProfiMail is not exclusive to Symbian (it's also WM) but moving away was painful.
"Nice to see symbian getting some love on El Reg.......it's been a long time :p"
It's been a long time since Symbian showed its users any love. 2007?