Chip sales stay high in June
Don't bogart that semi market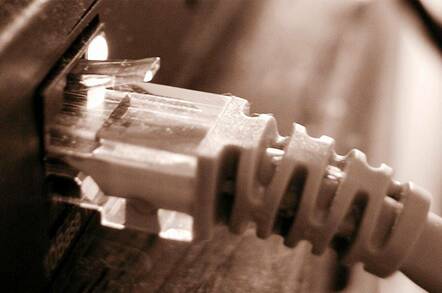 Chip sales, thanks to the myriad types of computing and electronics gear that depend upon them, continued to boom in the latest quarter, says the Semiconductor Industry Association.
The SIA tracks sales on a rolling three-month basis and averages these months to smooth out some of the choppiness in its data. (Argue amongst yourself if this is reasonable, but if I have fudged data, I always like to see the plain vanilla data as well.)
In June, the SIA said that global semiconductor sales rose by 49.3 per cent, to $24.9bn, compared to the year-ago quarter, when only $16.7bn in chips were sold worldwide. Compared to May, sales were up only a half-point, with slightly more chip sales in the Americas region, a tiny bit more in Japan, and slightly less in Europe and Asia/Pacific.
SIA reckons that chip sales in the Americas came to $4.58bn in June, up 64.2 per cent over the perfectly awful sales in June 2009, while sales in Europe rose by a more modest 41.5 per cent to $3.1bn last month. Chip revenues in Japan rose by 36.3 per cent, to $3.77bn. Asia/Pacific still accounts for the largest share of chip sales (because an increasing share of the world's IT and electronics gear is made there), with $13.48bn in semiconductor sales; that's an increase of 50.5 per cent over last year's June.
For the second quarter, global semiconductor sales were $74.8bn, up by 7.1 per cent compared to the first quarter of this year. The Americas showed the most improvement on a quarterly basis sequentially from Q1 to Q2, up 15.3 percent.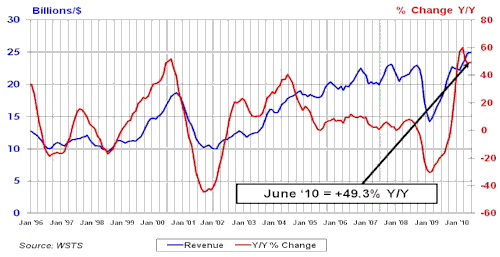 Worldwide semiconductor revenues and growth rates
As you can see from the chart above, semiconductor sales growth rates have moderated in recent months, and now revenue levels have started to flatten out. Monthly and quarterly growth rates are expected to continue to slide as the comparisons get harder.
"Sales in the first half of 2010 were exceptionally robust, driven by strong demand from a broad range of end markets," said Brian Toohey, the new president of the SIA, in a statement accompanying the figures.
"Worldwide semiconductor sales of $144.6bn for the first half of 2010 were more than 50 per cent higher than the same period of 2009 when sales were $96.1bn. We expect that sequential growth rates will moderate in the coming months, with the result that year-on-year growth for the industry will be in line with our mid-year forecast of 28.4 per cent."
Toohey added that the SIA was tracking consumer confidence, job growth, and overall economic growth to try to assess what effect these will have on semiconductor sales in the second half. ®
Sponsored: Minds Mastering Machines - Call for papers now open