Wacom Cintiq 21UX interactive pen display
Designer on-screen drawing tablet
As a general display for web browsing, e-mail or text-based tasks, using a pen to navigate feels more awkward than beneficial. A standard mouse, of course, is the simple solution here, and I found that using a mouse as well helped the process. It makes most sense to use the Cintiq as a second monitor, reserved purely for illustration work.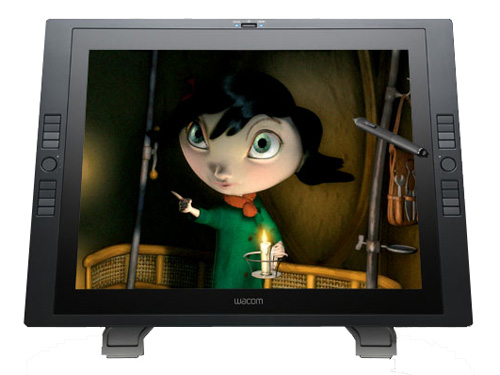 Pricey, but could well suit old-school artists moving into the digital domain
Indeed, this might be the best way to go, as seasoned Wacom users will be aware, the surface of a traditional tablet soon gets scratched with repeated pen use. I haven't used the Cintiq for long enough to know if this will be the case here, but having a plastic, rather than a glass surface – no doubt necessary for pressure sensitivity – suggests that scratching may well take place, which, on a tablet of this size, would entail an expensive repair.
Verdict
Wacom could have made the tablet vastly more appealing by the inclusion of the OLED buttons used in lower-end tablets, and it's surprising that it chose not to do this on its flagship product. I've been asking for a pop-up virtual keyboard since the Cintiq first appeared, which would obviate the need for a nearby keyboard for many tasks but, alas, this has yet to make an appearance.
While it may be the ideal solution for traditional painters moving to a digital medium, as a designer used to a standard pen/monitor combination I found that the huge travelling distances I now have to make simply results in tired arms; there's also the perennial problem that my hand, inevitably, gets in the way of the design. At £1800, the Cintiq 21UX is a considerable investment, and you'll have to decide for yourself whether this way of working is worth the outlay. ®
More Tablet Reviews...

Apple iPad
3G 32GB
Acer
Aspire
1825PT
Dell
Latitude
XT2 XFR
Wacom
Intuos4 L
Sponsored: Minds Mastering Machines - Call for papers now open

Wacom Cintiq 21UX interactive pen display
A 21in display with graphics tablet functionality for on-screen drawing.