Wacom Cintiq 21UX interactive pen display
Designer on-screen drawing tablet
First, it's tricky to hold more than one key at a time. Although I could press adjacent keys with my thumb, pressing a discontiguous selection involves using two or three fingers – a clumsy option. The real problem, though, is remembering what all the keys are supposed to do, or even where they're located.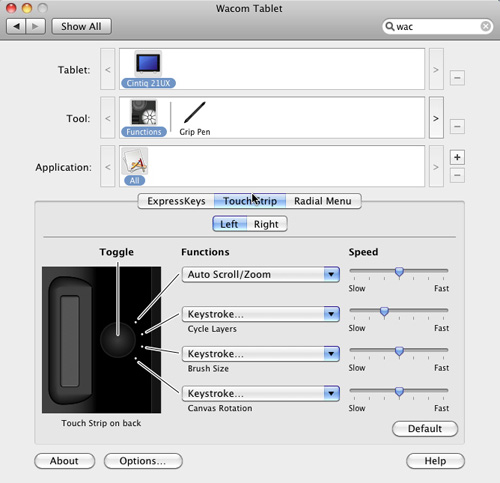 The rear-mounted Touch Strip can have up to four functions with adjustable sensitivity on each
The screen is so crisp and bright that the black keys, mounted on a wide black bezel, are almost invisible. The obvious solution would have been to make the keys a different colour to spot them more easily. A far better solution would have been to integrate the illuminated OLED keys seen on Wacom's Intuos range of tablets, which not only light up, but display the function of the key using either words or custom icons.
The Touch Strip is located on the back of the Cintiq, one on either side, thoughtfully located to be easy to scroll with the fingers. You can set this strip to perform one of four functions, such as scrolling, zooming, cycling through layers, changing brush size, and so on.
A circular button on the front of the panel allows you to choose which of these you wish to use at any time, and a bright white light next to the button gives a visual clue to which is currently selected. Again, there's a problem here: the position of the light relative to the button hints at its purpose, but when I can't even see the button clearly, it's hard to tell the precise location of the light.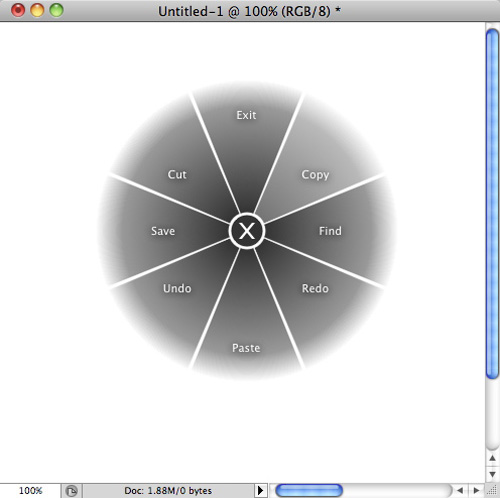 The innovative Radial Menu can be setup with multiple submenus to trigger a range of tasks
You can configure the Express Keys to pop up Wacom's innovative Radial Menu, first introduced a couple of years ago. This presents a virtual menu divided into eight segments, each of which can be user-defined to perform a specific task – switching to an email client, copying a selection, and so on. Furthermore, you can also make each segment trigger a new Radial Menu, and this is where the real power comes in.
Sponsored: Minds Mastering Machines - Call for papers now open