Street View spooked by 10 Rillington Place?
Orwellian black Opel scoots past infamous murder site
In fact, here's where Rillington Place was, indicated by the parallel lines. Number 10 was on a spot now occupied by 22-29 St Andrew's Square (arrowed).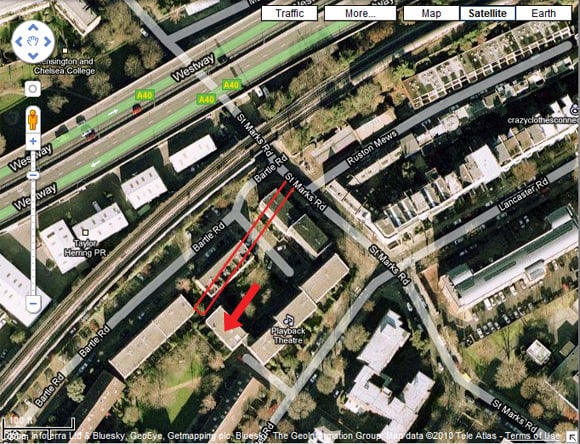 The location is definitively nailed by this fine cartographical detective work, and we've overlaid the house and garden onto a closer Google Maps sat view: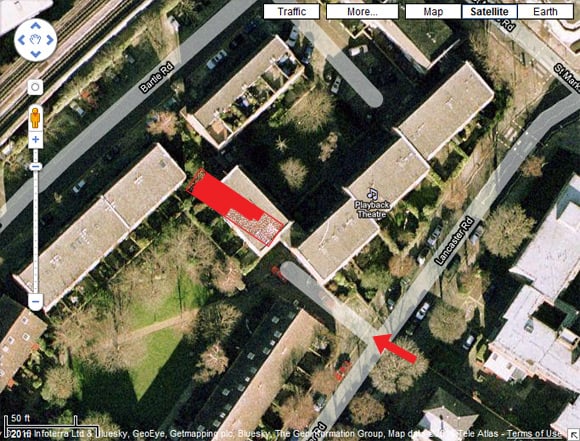 So, you're asking - what's the score with Street View? Well, just where 10 Rillington Place was is visible from Lancaster Road, specifically from the entrance to Wesley Square (arrowed above). But while there's a photo of that here, this is as close as you can get on Street View: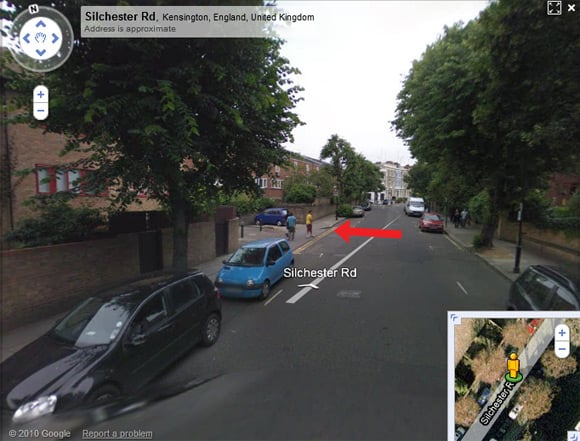 Try advancing towards Wesley Square (arrowed), and you're whisked briskly to safety down Lancaster Road. Give it a go for yourselves here.
Well, you might argue that the square has been removed from Street View on the grounds of privacy, or to discourage those Rillington Place tourists who actually know where the real site is.
Alternatively, a technical glitch could be to blame, but since Friday is silly tinfoil hat day and we're feeling a bit black helicopterish, we're going to insist that Google spymobiles also get the willies.
In this case, it could be that in the process of slurping unprotected Wi-Fi networks, the black Opel's sensitive snooping equipment picked up disturbing vibrations of past murder most foul, and simply gunned it down the street in panic. ®
Sponsored: Minds Mastering Machines - Call for papers now open