Pioneer BDP-330 Blu-ray player
Pure and simple
The Internet link means that firmware updates can be 'pushed' automatically, or you can use a USB stick to copy them from a PC. While some recent players can access plenty of on-line content – including the BBC iPlayer in HD in Sony's case – options are limited to just YouTube with the BDP-330. It's not so much a 'walled garden' approach, more of a window box. That said, its YouTube playback looks fine, even enlarged on a 42in TV, though it plods through the menu options compared to Panasonic's speedy rival players.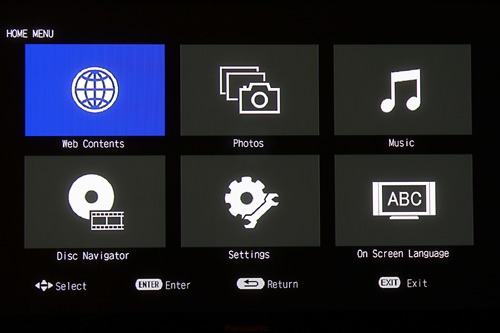 No iPlayer support as yet, but will play MP3s, photos and BD-Live content
The roster of other features is not huge and some are straightforward conveniences. The quick-start option uses 7W of power in standby (instead of virtually zero) and merely speeds up the player's readiness rather than accelerating Blu-ray disc loading times, which can still clock up between 30 and 60 seconds.
The player's HDMI output is version 1.3, which means, among other reasons, that it's not 3-D ready. However, it does bring some refinements, including Deep Colour (improved colour gradations) and x.v.Colour (wider colour gamut) as long as your display and the source material are compatible too.
Blu-ray's digital audio formats – DTS-HD Master Audio, Dolby Digital Plus and Dolby TrueHD – can be output as a native bitstream or decoded internally by the player and piped through HDMI as multi-channel Linear PCM. It lacks analogue multichannel sockets for feeding non-HDMI amps with uncompressed audio, but you'll at least get basic flavours of Dolby Digital and DTS from the optical port.
The BDP-330 boasts the latest iteration of Pioneer's Precision Quartz Lock System (PQLS) for jitterless transmission of all sound over HDMI, including multichannel LPCM and bitstream. Previous versions of the technology only worked with two-channel LPCM, making it ideal for CDs but not for films.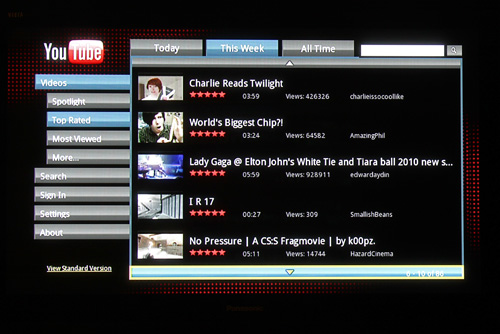 YouTube playback is included, along with Wi-Fi support with an optional dongle
PQLS removes jitter (clock timing errors) that could cause distortion during the final digital-to-analogue conversion in an AV receiver before outputting to loudspeakers. You'll also need a compatible higher end Pioneer receiver, such as the £700 VSX-LX52, to use it in more than stereo mode, though.