3D Dot Game Heroes
The closest you'll get to Zelda without dusting off your NES?
Minigames..
Any game giving a nod to the NES stable would be incomplete without our old friend the mini game to unlock new weapons, shields and various goodies for your blocky heroes. The three main mini games you come across are insanely hard, but break up the narrative of the game in a clean and compelling way.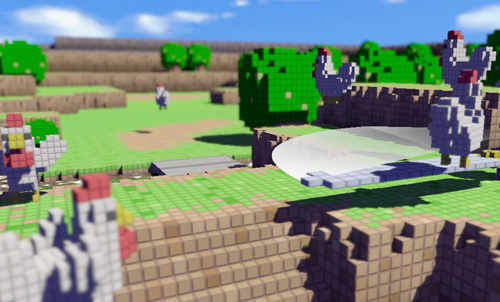 Where square eggs come from
Dash Circuit is a time trial racer where you have to avoid hitting any walls; then there is Blockout, a kind of Pong style game in where you fire a ball at bricks to smash them up, while trying to keep the ball rolling. Finally there is Block Defense, a tower protection game.
The main game most definitely hits its stride when you make it to a dungeon. The dungeons are based on the elements; fire, water, nature and wind. As you fight your way through each room you'll solve puzzles and traps to release keys. It is all about hunting down the helpful weapon of the dungeon, be it a bomb, boomerang or bow and arrow, because these will give you access to the boss key, which gives you access to the boss fight!
Without giving too much away the bosses are a high point in this adventure. Their pattern-based movements demand much chopping and fancy footwork, and they are the most gripping and hair-raising combat sections in the game.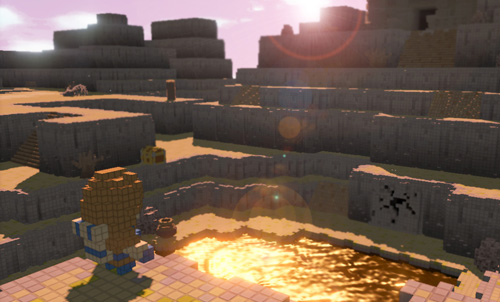 Beam me up Blocky
Verdict
Is 3D Dot Game Heroes nothing more than a self-referential retro title or is it a good exclusive to buy for a present gen console? This title will certainly appeal to younger gamers, as the game does look great and allows lots of creative interaction, but doesn't give you the dazzling hi-res graphics we've seen from the recent PS3 exclusives. But before dismissing it, keep in mind there are seven dungeons to delve into giving most players around 10 hours playing time. Take your time and you will realize there is a wealth of funny and exciting content to explore and uncover. ®
More Games Reviews

Limbo
Blacklight:
Tango Down
Crackdown
2
Sniper:
Ghost Warrior
Sponsored: Minds Mastering Machines - Call for papers now open

3D Dot Game Heroes
Create your own retro visuals – it's too kewl for school and a worthy exclusive to the PS3.